Geothermal System Software controls home comfort via web.
Press Release Summary: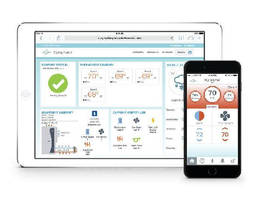 Combining Aurora controls of WaterFurnace geothermal heat pump system with WebLink router, Symphony provides detailed feedback in real-time and enables control from any smartphone, tablet, or computer. Cloud-based system offers personalized dashboard that provides access to system settings, operational status, alert history, energy usage, zone temperatures, and local weather. Symphony can provide equipment alerts and service reminders via email, text message, and in-app notifications.
---
Original Press Release:

WaterFurnace Introduces Symphony Web-enabled Home Comfort Platform



Fort Wayne, IN –  WaterFurnace International, Inc., the leading manufacturer of geothermal and water source heat pumps, introduces Symphony, a web-enabled home comfort platform designed for WaterFurnace's 3 Series, 5 Series and 7 Series geothermal heat pump systems. It provides detailed feedback in real-time and the tools to control it from any smartphone, tablet or computer.



Symphony marries the Aurora controls of a WaterFurnace geothermal system with the WebLink router, giving users access to unit sensors, energy use and system information from practically anywhere. The system is cloud-based, so there's no software to install and provides control over the entire geothermal system – not just the temperature found in other 'smart thermostat' systems. The personalized dashboard provides quick access to system settings, operational status and history, alert history, energy usage, zone temperatures and local weather.



An internet-enabled thermostat allows homeowners to change temperature, set a schedule, monitor vacation mode, and more on an available app with a smartphone or tablet. Those with WaterFurnace's IntelliZone2 zoning system can remotely control temperatures and programs in up to six zones. The platform also allows homeowners to track their system's energy use over the prior 13 months, including detail on equipment staging, heating time, cooling time and fan use. WaterFurnace is the only geothermal manufacturer to offer its own zoning solution, and the only ones with online control.



"Unlike many 'smart' thermostats or whole-home energy usage portals, Symphony integrates directly into the heat pump's control board, providing access to components, sensors and a greater level of information and control," said Bob Brown, vice president of engineering, WaterFurnace International, Inc. "It was developed in-house and specifically engineered to control our geothermal systems, and is not reliant on a third party for additional development or changes. Symphony helps both homeowners and dealers maximize their investment in a WaterFurnace geothermal system."



Symphony can provide equipment alerts and service reminders via email, text message, and in-app notifications to not only the homeowner but also dealers/contractors. A service technician can log into a homeowner's system to view faults, operating conditions and sensor readings – all without having to visit the home. If a service call is needed, the contractor can begin working on the solution immediately – saving the homeowner valuable time.



WaterFurnace dealers can also access detailed data over the web on any unit equipped with an Aurora WebLink device via a Technician Portal, which displays real-time parameters commonly reviewed when troubleshooting a heat pump. This leads to potential time/cost reductions in diagnostics, repairs and unnecessary jobsite visits.



The historical data tool completes a system snapshot of 100+ parameters of data every 10 seconds, and a technician can search for fault events and review detailed performance graphs to more easily diagnose issues. WaterFurnace's virtual AID Tool provides dealers online access to the same capabilities, interface and menus they're used to in the physical AID Tool. System notes can also be stored, including unlimited project and equipment details along with any service notes and history.



To learn more, visit www.waterfurnace.com/symphony.



More Information:

WaterFurnace International, Inc. is a leading manufacturer of residential, commercial, industrial and institutional geothermal and water source heat pumps. Although it earned a reputation as a leader in geothermal heat pumps, WaterFurnace has worked in recent years to innovate new technologies, integrate key trends and grow the core business to represent a portfolio of clean and sustainable solutions. WaterFurnace was founded in 1983, and the company is headquartered in Fort Wayne, Ind.



For the latest news and updates from WaterFurnace, connect with us on your favorite social media sites – follow us on Twitter (@WaterFurnace), like us on Facebook or view the WaterFurnace YouTube Channel. Additional information about the Company and its products is available at www.waterfurnace.com.



Related links:

WaterFurnace - http://www.waterfurnace.com/

geothermal - http://www.waterfurnace.com/geo_energy.aspx

heat pumps - http://www.waterfurnace.com/geothermal-heat-pumps.aspx

Symphony - http://www.waterfurnace.com/symphony/

More from Sensors, Monitors & Transducers