Geometric Measurement System utilizes iOS devices.
Press Release Summary: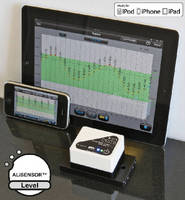 Supported with dedicated App, ALiSENSOR(TM) LEVEL data collector contains MEMS gyros, accelerometers, and microprocessor. Data of angular and translational movements are delivered via Bluetooth® to iOS unit, which provides environment for operator to analyze data. ALiSENSOR(TM) LEVEL offers ability to select from wide range of measurement units, self-calibration for measurement with new or special fixtures, and instant reports with all data from measurements that can be shared via email or MMS.
---
Original Press Release:

Alignment Supplies, Inc. Announces New ALiSENSOR(TM) LEVEL, the First iPad Geometric Measurement System



Maumee, OH - Greg Knitz, President of Alignment Supplies, Inc., announced today the North American launch of the ALiSENSOR(TM) LEVEL, a revolutionary new system designed for superaccurate geometric measurements. "The ALiSENSOR(TM) LEVEL is ideal for a spectrum of
geometric measurement uses, in applications of all levels of complexity," said Mr. Knitz. Of particular note is the technology of the ALiSENSOR(TM) platform, which is known as Industrial MFi (Made for iPad), a groundbreaking integration of the iPad and other iOS devices into industrial grade tools and equipment. Not only does the Industrial MFi platform offer users the ability to work with the iPads, iPhones, and iPods that they already enjoy, but also opens up a new sphere of industrial uses that can now be performed with the full range of Apple's best-selling iOS devices. "The best part," adds Knitz, "is that making use of the existing iOS devices means that the R&D and production costs have been radically diminished. This enables us to offer the
complete ALiSENSOR(TM) LEVEL system at a quarter of the price of other geometric measurement systems, making this the first next-generation, wireless measurement system that is finally affordable enough for everyone." Slated to retail at about $2500 (without iOS unit), the ALiSENSOR(TM) LEVEL is expected to be an instant hit with machinists, technicians, and operators to whom precision measurements are an essential need in production.

The ALiSENSOR(TM) LEVEL system consists of a sensor unit and an iOS unit (iPad, iPhone or
iPod Touch). The ALiSENSOR(TM) LEVEL sensor unit is a complex but rugged data collector that contains MEMS gyros, accelerometers, and a microprocessor. Data of angular and translational movements are provided via Bluetooth® to the iOS unit, which provides an unsurpassed user friendly environment for the operator to analyze the data. Typical measurement applications to be performed with the ALiSENSOR(TM) LEVEL are: straightness, level, inclination, and base flatness, with the accuracy required by precision machine workshops.

The ALiSENSOR(TM) LEVEL is supported with a dedicated App (Application), downloadable for
free from the App Store, which guides the user throughout the measurement. The ALiSENSOR(TM) LEVEL hardware will be supported by several free Apps that can use the functionality of the hardware to implement different types of measurements. New Apps designed for use with the ALiSENSOR(TM) LEVEL will soon be available for use in measurement applications such as: flatness, squareness, parallel, milling machines, lathes, and more. Any update of the Apps will also become automatically available, free of charge, to customers' iOS units.

The ALiSENSOR(TM) platform is developed by GLOi AB, a pioneering company in the Industrial
MFi sphere headquartered in Mölndal, Sweden. GLOi AB was founded by Nils Andersson, a
recognized luminary of the laser alignment industry, who originally founded both Fixturlaser AB and Damalini AB, two of the biggest laser alignment and measurement companies in the world.

Andersson, along with R&D / Embedded Systems Director Ali Chitsaz and a full team of
Technical Design and Development veterans, have embraced the exceptional opportunities and possibilities of designing products directly for use with Apple's iOS devices. GLOi AB has targeted industrial product development under the "Made for iPad" program, custom developing and manufacturing hardware dedicated for the iOS platform. GLOi AB handles the whole development cycle from original idea to a finished product, featuring all the key industry standards including mechanical, software, and embedded systems design.

The ALiSENSOR(TM) LEVEL also incorporates several high-end features to its impressive slate of capabilities, including the ability to select from a wide range of measurement units, self-calibration of the ALiSENSOR(TM) LEVEL for measurement with new or special fixtures, and even reports that are instantly created with all data from the measurement including the resulting graph. The user can also input complementary information (user, location, measurement object, etc.) about the particular setup. The ALiSENSOR(TM) LEVEL also possesses the ability to include a photo of the measurement object (taken with the built-in camera of the iOS device) directly in the report. The
report file can be easily shared like other files on any iOS device - via email, mms, and even services such as Dropbox. "The ALiSENSOR(TM) LEVEL is a truly revolutionary new product," said Knitz, "and an extraordinary value. Never before has a geometric measurement product had so much functionality and ease-of-use at such an accessible price."

About Alignment Supplies:

Since 1985, Alignment Supplies, Inc. has served the rotating machinery industry with a complete line of alignment-related products for shaft and machinery alignment and measurement. Alignment Supplies, Inc. has the experience, resources,
and equipment to address any alignment need. Contact us at 800.997.4467 (US only), 419.887.5890, or at www.alignmentsupplies.com.

ALiSENSOR(TM) is a registered trademark of GLOi AB in the United States and/or other countries.

For more information, contact:

Brian Walsh, Business Development Manager bwalsh@alignmentsupplies.com

Phone: 419.887.5890 www.alignmentsupplies.com

More from Cleaning Products & Equipment