Generator Sensor Bearing Unit addresses rail track safety, logistics.
Press Release Summary: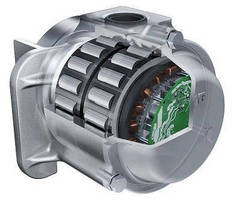 Based on proprietary Generator Sensor Bearing (GSB), Train Support System enables recording of information regarding condition of bearings, wheelsets, and rail tracks as well as transmission of that data to higher level control system. Evaluated data forms basis for maintenance and repair decisions and is also critical for railway supervisory systems as well as online timetable generation, routing, process and risk analysis, and localization.
---
Original Press Release:
Generator Sensor Bearing Unit Improves Rail Track Safety and Optimises Logistics
Based on the company's Generator Sensor Bearing (GSB), The Schaeffler Group has developed an award-winning Train Support System. This novel, onboard unit enables information to be recorded relating to the condition of bearings, wheelsets and rail tracks, and to then transmit this information to a higher level control system. This evaluated data forms the basis for maintenance and repair decisions and is also critical for railway supervisory systems, as well as for online timetable generation, routing, process and risk analysis, localisation and so on. Germany's Center for Transportation & Logistics Neuer Adler e. V (CNA) recently recognised the Train Support System with this year's Intelligence for Transportation and Logistics innovation award. From Rolling Bearing to Onboard Unit The Train Support System is based on Schaeffler's FAG axlebox bearing, which can be used with an integrated GSB as a self-sufficient energy source in rail freight wagons. Schaeffler developed the system electronics and software and then integrated these in the GSB, forming an onboard unit. Used in combination with an information management system, the GSB enables line operators and rail companies to improve track safety, whilst optimising freight logistics. A wide range of different signals are recorded in the GSB and transmitted to a central computer via GPS. The evaluated data forms the basis for rail supervision systems, as well as online timetable generation, routing, process and risk analysis, localisation, length of retention and so on. Similar to a dynamo, the GSB induces the required electric power via the rotational movement of permanent magnets located on the wheel axle. This power is typically around 100W at a nominal voltage of 24V. Therefore, an independent, self-sufficient energy source is available, which, via an electric storage unit, enables additional functions, such as the automatic opening of train doors or the detection of switches and sensors. For the Train Support System, Schaeffler has now refined the GSB with a sophisticated electronic system into an onboard unit and connected this with a higher-level information management system. So the signals are not only recorded and processed in the bearing, but are also transmitted via GPS satellite technology. From Onboard Unit to Train Support System In the past, such onboard units were not possible to develop, particularly in freight trains. Supply of data using satellite technology only works with an independent, self-sufficient energy supply system. "This is now available due to Schaeffler's Generator Sensor Bearing. Communication of messages via satellite opens up new possibilities for optimising freight haulage logistics and for enhancing transport safety," said Bernd Gombert, Head of Mechatronic Systems at Schaeffler. The sensors integrated in the bearing not only record data on the condition of the axlebox bearing, such as wear or excessive heat, but also determine and monitor other characteristics such as mileage, speed, temperature and noise, which enables conclusions to be made about the condition of wheels, bogies and rail tracks. This means that even the condition of butt joints and switches in the rail network can be monitored. The evaluation of the data recorded in the bearing also enables the monitoring and optimisation of traffic and goods flow, as well as wagon availability, location tracking and the calculation of track utilisation costs, taking into account the loads, number of axles, time and distance. "The great innovation for transportation and logistics is achieved via the combination of self-sufficient energy generation in the Generator Sensor Bearing and the sensor data with the respective onboard units and the higher level information and control system. This makes the Train Support System a groundbreaking solution for rail traffic in terms of safety and communications, as well as transportation and logistics management," emphasised Simone Purbs, Head of the Schaeffler Group's Railway Sector Management. The Train Support System is an important step on the road towards a railway guidance system. For example, there are plans for it to be integrated in the European Train Control System (ETCS) designed for European rail traffic. Initial tests are currently being conducted with Finnish Rail. In addition to GPS data collection (i.e. the localisation of individual freight wagons) the entire logistics chain can now be analysed. Transported goods are tracked via satellite and this knowledge of their current whereabouts enables optimised utilisation of routes and containers or freight wagons. In close partnership with manufacturers and operators, Schaeffler Group Industrial's Rail Business Unit develops and manufactures solutions for any bearing application in rail vehicles. The product portfolio includes axlebox bearings and housings, bearings and components for traction motors and gearboxes, railcar connectors and tilting mechanisms, as well as linear motion systems for rail carriage doors. Schaeffler Group Industrial has more than 100 years of experience in railway applications. This means it is able to offer customers comprehensive technical expertise and superior quality products that are perfectly matched for every application. For more information on Schaeffler's range of bearing solutions for the rail industry, please call the Marketing Department on 0121 313 5870 or email info.uk@schaeffler.com Note: With a total of 65,000 employees at over 180 locations around the globe and group sales of 7.3 billion Euros (fiscal year 2009), the Schaeffler Group is one of the world's leading rolling bearing manufacturers and automotive component suppliers. The corporate group includes the INA Group with headquarters in Herzogenaurach, the FAG Group based in Schweinfurt as well as the LuK Group, with headquarters in Bühl.
More from Thermal & Heating Equipment