Generator adds additional power to boom lifts.
Press Release Summary: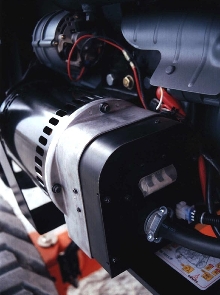 SkyPower(TM) generator provides 7,500 W of 110 or 220 Vac power at platform for added work efficiency. Power cable is routed from base-mounted generator through boom power track to GFIC outlet in platform. Air line is also routed through power track for operation of pneumatic tools or pressure washers. SkyPower is available on boom lifts with platform heights ranging from 40 to 135 ft.
---
Original Press Release:
SkyPower(TM) Package from JLG Brings More Electric Power to Boom Lift Platforms
McConnellsburg, PA, April 24, 2002 - The SkyPower(TM) generator from JLG Industries. Inc. is a new accessory for JLG boom lifts that provides 7,500W of 110V or 220V AC power at the platform for added work efficiency. A power cable is routed from the base-mounted generator through the boom power track to a GFIC outlet in the platform. This allows workers to use power tools without a separate ground-based generator and eliminates cables hanging down from the platform. An air line is also routed through the power track on machines equipped with the SkyPower generator for operation of pneumatic tools or pressure washers. Boom lifts equipped with the SkyPower generator also have a side-entry platform that allows for installation of material handling accessories at its front. The SkyPower package is an integral component of the JLG Workstation in the Sky(TM) line of product accessories that make the use of JLG's aerial work platforms more productive. It can either be installed as a stand-alone unit or used to power other work enhancing accessories such as the the SkyCutter(TM) system; the SkyWelder(TM) system; the Sky Bright(TM) system, and the SkyGlazier(TM) system. It is available on JLG boom lifts with platform heights ranging from 40 ft. to 135 ft. JLG Industries, Inc. is the world's leading producer of mobile aerial work platforms and a leading producer of telehandlers and telescopic hydraulic excavators marketed under the JLG(R) and Gradall(R) trademarks. Sales are made principally to rental companies and distributors that rent and sell the Company's products to a diverse customer base, which include users in the industrial, commercial, institutional and construction markets. JLG's manufacturing facilities are located in the United States and Belgium, with sales and service locations on six continents. For additional information, contact:
Ms. Maye Houck
Marketing Communications Manager
JLG Industries, Inc.
13224 Fountainhead Plaza
Hagerstown, MD 21742 TEL: (240) 420-8721
FAX: (240) 420-8732
E-mail: mlhouck@jlg.com
More from Electrical Equipment & Systems