Tube / Pipe / Hose Cutters and Cutting Machinery
General's Compact, Convenient AutoCutPL® Quickly & Easily Cuts Plastic Tubing!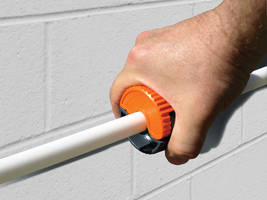 The compact, convenient AutoCutPL® plastic tubing cutter from General Pipe Cleaners offers a fast, easy way to cut plastic tubing – and with less effort!
AutoCutPL produces clean, uncrushed, square cuts quickly – with less effort. And it fits in the palm of your hand! Great for use in tight spaces, AutoCutPL lets you cut both PEX and CPVC-CTS plastic tubing with less than one inch of clearance.
Just remove the blade guard and close the gate over the tube. Then turn AutoCutPL in the direction of the arrows as you evenly squeeze the gate closed. Simpler to use than conventional plastic tubing cutters, it cuts plastic tubing in as little as one rotation!
Get hundreds of cuts with accuracy and ease. The handy blade guard protects your fingers – and the easily replaceable AutoCutPL blade – from workplace and toolbox damage.
AutoCutPL comes in three sizes - 1/2", 3/4", and 1" - for PEX and CPVC-CTS tubing. Keep all three in your toolbox!
For more information, contact the Drain Brains® at General at 800-245-6200 or 412-771-6300, or visit www.drainbrain.com.
General Pipe Cleaners, a division of General Wire Spring Co., is a leading manufacturer of high quality American-made drain cleaning equipment. In business since 1930, the four-generation, family-owned company is celebrating 90 years of service to drain cleaning professionals and plumbing contractors, as well as facilities managers, the rental industry and the hardware/DIY market. The Toughest Tools Down The Line.
To be removed from future General Pipe Cleaners distributions, reply to this transmission with the word "REMOVE" in the subject heading.
Contact:
Marty Silverman, VP Marketing
412-771-6300
mjs@generalpipecleaners.com
David L. Veres, Public Relations
412-655-8025
dlv@dlveres.net
Contact This Company Download Spec Sheet
More from Optics & Photonics