GENE-APL5 SubCompact Board comes with three independent displays.
Press Release Summary: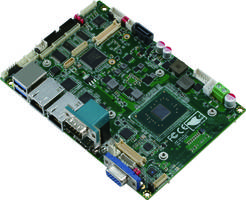 GENE-APL5 3.5 in. SubCompact Board is suitable in applications such as touch screen kiosks, food processing, and medical industrial purposes. Unit comes with LVDS and VGA display offerings. The LVD is designed in co-layout with HDMI and supports 4K resolution. Board features 4 USB 2.0 slots, 2 USB 3.0 slots, and 4 COM 8-bit digital I/O ports. Product is equipped with a fanless thermal solution and Intel® Pentium® N4200/ Celeron® N3350 processor SoC.
---
Original Press Release:
AAEON's GENE-APL5 Enables Speedy Upgrades and Efficient Integration
3.5" SubCompact Board with Intel® Pentium® N4200/ Celeron® N3350 Processor SoC
AAEON, an award-winning developer and supplier of network hardware worldwide, is pleased to announce that Technavio's research report has ranked AAEON as one of the top 5 global industrial panel PC market vendors for 2017.
A major developer of industrial automation and intelligent control solutions, AAEON launches a newly revamped and upgraded GENE-APL5, a 3.5" single board specifically designed for applications in touch screen kiosks, food processing, and medical industrial purposes.
With a brand new CPU that has been refitted to comply with latest industrial standards, the newly renovated GENE-APL5 supports the latest ApolloLake Processor, providing expedited processing times and lowering cumbersome maintenance costs for the client. Indeed, the entire design of the GENE-APL5 is built to cater to the customer's every whim, with an improved voltage input quota, a fanless thermal solution that provides for an affable and accessible user experience, and stunning visuals with 3 independent displays, and dual offerings of LVDS and VGA displays. The LVDS is designed in a co-layout with HDMI, supporting 4K resolution. Additionally, a wide range of expansion choices include 8-bit digital I/O with 4 USB 2.0 slots, 2 USB 3.0 slots, and 4 COM ports, allowing users maximum flexibility and connectivity for current and future system requirements.
"Designed to consolidate existing hardware, the architecture of the GENE-APL5 is built for easy unification with current platforms and systems, and is ideally suited for compact environments, as the board itself stands at 3.5 inches, the same size as a hard disk drive," said Julie Huang, Product Manager for AAEON's Embedded Computing Division (ECD). "It's also ideal for uses in commercial spaces such as retail stores and touch screen booths, and can be easily adapted to accommodate existing hardware. Overall, we designed this to be accessible and malleable for a user-friendly experience."
About AAEON
Established in 1992, AAEON is one of the leading designers and manufacturers of professional intelligent IoT solutions. Committed to innovative engineering, AAEON provides reliable and high quality computing platforms, including industrial motherboards and systems, industrial displays, rugged tablets, embedded controllers, network appliances and related accessories, as well as integrated solutions. AAEON also has the hardware and services for premier OEM/ODMs and system integrators, worldwide. Being an Associate Member of the Intel® Internet of Things Solutions Alliance, AAEON offers customized end-to-end services from the initial product conceptualization and board product development to mass manufacturing and after-sales service programs. Peruse AAEON's expansive line of products and services by visiting www.aaeon.com.
Contact:
Vivien Wang
AAEON Technology Inc.
Tel: +886 2 8919 1234 #1114
Related