Gemini Bakery Equipment and KB Systems Build and Install Four 90,000-pound Capacity Indoor Storage Bins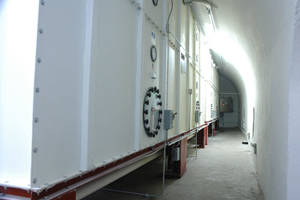 Bakery Boy is a specialty bakery that produces both baked and raw frozen products located in North Dakota. They outgrew their outdoor ingredient handling system capacity. They needed to evaluate options to expand or replace their current system to gain capacity and flexibility. After a thorough evaluation it became apparent that the old bulk system required significant updating .It would have required significant and complicated modifications.
It was decided that the best course of action was to install a new bulk handling system. They selected a KB indoor system in lieu of duplicating their current outdoor tank system. One of the key benefits of an indoor system in this bakery was improved processing conditions by giving our client much better control of their bulk ingredient temperatures in an area subject to some extreme weather. The added challenge was the distance between certain use points in the bakery. They also had an existing liquid ingredient system that needed to be integrated with the new equipment.
We installed four 90,000-pound capacity indoor storage bins for three flours. KB's low profile bin technology provides for large indoor storage volumes. A custom double weigh hopper with liquid ingredient dosing that dispenses directly to two large spiral mixers and a single bowl charge station was located in the same part of the building with the flour bins. Bulk ingredients were conveyed in closed loops directly to these use points from the silos through the two conveying lines.
Two custom single bowl charge stations with liquid ingredient dosing were location a distant area of the building. We overcome this challenge and optimized the system fill rates by installing three 5,000-pound Day Bins with automatic high/low level control. The Day Bins were supplied by the storage bins on the other side of the bakery and they in turn conveyed ingredients in a closed loop to the bowl charge stations in this area of the building. The liquid dosing systems metered four liquid ingredients at each use point. Micro-motion meters were used for their degree of ingredients delivery precision and repeat-ability. Control of the liquid dispensing systems was seamlessly integrated into our clients existing liquid ingredient storage and pumping station.
About Gemini Bakery Equipment
Gemini is the largest provider of specialty bread and roll equipment and systems in North America. Headquartered in Philadelphia, PA with two manufacturing plants in Pennsylvania as well. Annual consolidated sales up to $40 million, Gemini employs approximately 125 across all three operations. Gemini's technical competence, creativity and product knowledge are its strength. Gemini's professional team of salesmen, engineers and project managers support sales of individual equipment as well as multi-million dollar installations throughout North America. Our Customer Service Department provides a full range of parts and field technician services. Spare parts are stocked in Gemini's Philadelphia, York, and Bangor, Pennsylvania facilities.
Gemini Bakery Equipment Company
Telephone: 215-673-3520
Fax: 215-673-3944
E-mail: sales@geminibe.com
Corporate Office
9990 Gantry Road
Philadelphia, Pa 19115
KB Systems
90 Jacktown Road
Bangor, Pa 18013
More from Electronic Components & Devices