Gel Permeation/Size Exclusion Chromatography Array measures molecule, polymer viscosity.
Press Release Summary: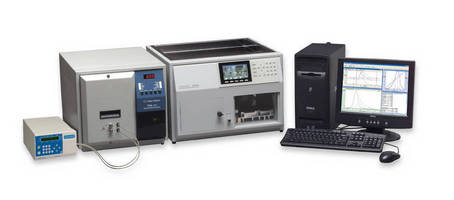 Viscotek Triple Detector Array includes viscometer, with 316 SS transducer construction, that provides viscosity and structural information for range of biomolecules and natural/synthetic polymers. Viscometer uses digital inert transducer for sensitive response to viscosity changes. Also suitable for protein analysis, viscosity component of gel permeation/size exclusion chromatography platform has inert capillaries in measuring flow path suitable for biomolecule applications.
---
Original Press Release:

Malvern Adds New Applications to Market-Leading GPC/SEC System



Malvern, UK: Malvern Instruments has extended the applications for its Viscotek Triple Detector Array (TDA), the multi-detector platform for gel permeation/size exclusion chromatography (GPC/SEC), through the inclusion of a new viscometer in the setup. The TDA maximises the productivity of GPC/SEC analysis by simultaneously measuring absolute molecular weight, molecular size and intrinsic viscosity. The new viscometer combines unrivalled sensitivity with an innovative 316 stainless steel transducer construction that offers excellent chemical resistance. It therefore provides the most precise intrinsic viscosity and structural information for an expanded range of biomolecules, natural and synthetic polymers.

The unique viscometer design uses digital inert transducer technology to give a faster, more sensitive response to viscosity changes than traditional transducers. Its 316 stainless steel construction means that there are now few limitations, in terms of salt content or pH, on the chromatographic conditions that can be used. This is a significant benefit for protein analysis. The use of inert capillaries in the measuring flow path is also advantageous for many biomolecule applications.

The TDA lies at the heart of the Viscotek TDAmax: a complete, advanced GPC/SEC system suitable for all macromolecular applications. However, each element of the TDA can be purchased alone or in combination, offering exceptional flexibility to those with existing GPC/SEC systems. UV and/or PDA detectors are also available to further augment detection capabilities. These are especially useful for the analysis of composition for copolymers and/or conjugated proteins.
http://www.malvern.com/viscotek_tdamax

Malvern and Malvern Instruments are registered trademarks of Malvern Instruments Ltd

About Malvern Instruments

Malvern Instruments is a market leader in measuring performance controlling material properties. These include particle size, particle shape, zeta potential, molecular weight, size and conformation, rheological properties and chemical distribution. Malvern delivers the systems, support and expertise that ensure the analytical rigor and productivity needed to drive research, development and manufacturing.

Malvern's measurement solutions for scientists, technologists and engineers advance continually through customer collaboration. Complementary materials characterization systems deliver inter-related measurements that reflect the complexities of particulates and disperse systems, nanomaterials and macromolecules. Combining intelligently implemented technologies with in-depth industry applications knowledge and support, Malvern provides customers with the competitive advantage they demand.

Headquartered in Malvern, UK, Malvern Instruments has subsidiary organizations in all major European markets, North America, China, Korea and Japan, a joint venture in India, a global distributor network and applications laboratories around the world. www.malvern.com


More from Cleaning Products & Equipment