Gearmotors have sealed design to keep oil clean.
Press Release Summary: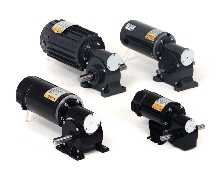 Improved right angle single reduction gearmotors are available from 1/2 to 25 hp, in ac and dc. They have internal expansion bladder and Mobil synthetic SHC 634 oil bath lubrication. Because gearmotors are not vented, outside contamination from environment cannot enter and oil stays clean. Other improvements include induction hardened and ground worms for increased life, and castings that eliminate porosity leaks, reduce weight and increase strength.
---
Original Press Release:

Baldor Re-Designs Right Angle Gearmotors


Baldor Electric Company, Fort Smith, Arkansas based manufacturer of energy saving industrial electric motors, drives and generators, announces a significant re-design of its line of right angle gearmotors. All Baldor right angle single reduction gearmotors now feature an internal expansion bladder (chamber) and Mobil synthetic SHC 634 oil bath lubrication. Typically, oil filled gearheads are vented to allow for the expansion that takes place as the gear case temperature rises. This practice usually limits the mounting position of the gearmotor. Additionally, a vented gearhead will breath in airborne contaminants and moisture and this shortens gear life.

With the new internal expansion bladder now found on Baldor gearmotors, there is no need for a vent and the bladder absorbs the pressure caused by the expanding oil. Because the newly designed Baldor gearmotors are not vented, outside contamination from the environment cannot enter the gearheads and the oil stays clean. Other improvements include induction hardened and ground worms for increased life and load capacity, and new casting designs, which eliminate porosity leaks, reduce weight and increase strength.

The new Baldor gearmotors are available in a wide range of ratios and gear styles from 1/25 Hp through 1/2 Hp, in both AC and DC ratings. The new right angle design provides flexibility and interchangeability with other manufacturers. The internal expansion chamber is exclusive to Baldor gearmotors and is not available in these sizes from any other manufacturer. Applications include conveyors, material handling, machine tools and packaging equipment.

For more information on Baldor's newly redesigned right angle gearmotors call toll free 800-828-4920 and ask for BR1500. For more information about Baldor and our other products visit our web site at www.baldor.com.

Baldor's Mission Statement:
Baldor is to be the best (as determined by our customers) marketers, designers, and manufacturers of electric motors and drives. To be the best we must:
* Provide better value as perceived by our customers,
* Attract and retain competent employees committed to reaching our goals and objectives, and
* Produce good, long-term results for our shareholders.

BROAD PRODUCT LINE: Motors and Drives
Baldor offers a broad product line to serve our customers' diverse needs. Industrial AC and DC electric motors, ranging from 1/50 through 800 horsepower, are the mainstay of the company's products. Baldor's new line of Standard-E(TM) motors are designed to meet the efficiency requirements of the Energy Policy Act. Baldor's premium efficient Super-E® motors are widely recognized as offering some of the highest efficiencies. These higher efficiencies translate into lower operating costs to the motor end-user.

Baldor also offers customers a wide range of "definite-purpose" motors. Examples include Baldor's Washdown Duty motors which are ideal for food processing and other wet environments. Baldor's Chemical Processing line of cast-iron motors are built for the harsh environment of mills and processing plants. Baldor Farm Duty motors meet the rugged outdoor requirements in the agriculture markets. Also included are broad lines of brakemotors, explosion- proof, C-Face, pump motors, and gearmotors.

The fastest growing segment of Baldor's product line is adjustable speed drives. Baldor offers DC SCR controls, AC inverters and vector controls, and a wide range of servo and positioning products. Baldor markets "Matched Performance(TM)" by offering customers matched motor and control packages with lab tested performance.

Baldor recently introduced the Baldor SmartMotor®, an integrated motor and adjustable speed control. Now available from 1 to 10 Hp, this breakthrough new product is easy to install and offers many performance advantages.

MARKET DIVERSITY: Serving Many Industries
Baldor's marketing strategy is to maintain a 50/50 balance between sales to distributors and original equipment manufacturers. Some of the larger end-user markets for Baldor products are:
- Pumps
- Packaging Machinery
- Textiles
- HVAC
- Food Processing
- Hoists/Cranes
- Agribusiness
- Compressors
- Health/Fitness
- Conveyors
- Semiconductor Manufacturing
- Energy/Refining
- Machine Tools
- Chemical Processing
- Printing
- Pulp & Paper
- Medical Equipment
- Pollution Control

PRODUCT DISTRIBUTION: Close to the Customer
Baldor products are sold through 34 sales offices/warehouses throughout North America. International sales are made through Baldor affiliates in Europe, Latin America, the Pacific Rim, and Australia. Baldor sells its products in over 55 countries.

MANUFACTURING STRENGTH: Flex Flow(TM)
Baldor operates modern, well-equipped factories utilizing our unique "Flex Flow(TM)" production control technique. This produces the highest quality in the shortest lead times, for higher customer satisfaction while maintaining production efficiency. The company employs over 3,800 people at various locations throughout the world.

FINANCIAL STRENGTH: Maintain Strong Ratios
Baldor intends to continue to earn our position as an independent, publicly held corporation. We maintain a sound balance sheet utilizing cash flows to invest in anticipated customer needs, while offering a good return to our investors. Baldor stock is listed on the New York Stock Exchange as "BEZ".

Related