Gear Measuring Machine handles gears from 5-270 mm.
Press Release Summary: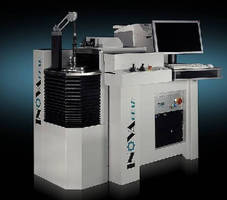 Designed to use multiple scanning measuring probes, including one for grind burn detection, INOVA measures internal gear diameters greater than 12 mm, gear face widths up to 500 mm, and gears with helix angles less than 90°. Z-axis with integral rotary table is positioned independently from X and Y axes. Additional features include black granite guideways, pneumatic vibration dampening system, 3- or 6-jaw chuck. CNC controller is installed in 19 in. cabinet with PC and power unit.
---
Original Press Release:

Wenzel Gear Tec Introduces New Inova Compact 4-Axis Fully-Automatic CNC Gear Measuring Machine for Gears from 5 to 270 MM



INOVA, the newest addition to the Wenzel Series of gear measuring machines is designed to utilize multiple scanning measuring probes including one for grind burn detection.

Wenzel Gear Tec displayed their new compact INOVA gear measuring machine for the first time at the Control Exhibition in Stuttgart, Germany in May, 2009.

INOVA is a completely new gear measuring machine design where the Z-axis with integral rotary table are positioned independently from the X and Y-axes. In addition, highly-accurate servo drives are used for all linear axes to provide a very high level of dynamic performance. Like all Wenzel CMMs and gear measuring machines (GMMs), Impala black granite is used for the guideways. An integrated pneumatic vibration dampening system isolates the machine base, eliminating the need for any special foundation.
The INOVA has the capability of using multiple scanning sensors including probes for detecting grind burn. A probe change rack feature has an integral protective cover insures the probes and sensors are organized and protected from dirt and damage.

The basic INOVA gear measuring machine includes:

o SP600 or SP80 Renishaw scanning probe

o Calibration sphere

o A 3 or 6-jaw chuck

o CNC controller installed in a 19-inch cabinet with PC and power unit

o LAN board for centralized network integration

o Software for online service

o Integrated joystick for manual positioning and measurements

Each INOVA gear measuring machine can be equipped with a wide variety of Wenzel gear measuring software modules for gears, gear cutting and finishing tools and grind burn detection. Users can economically tailor their machine software for their specific applications. Workpiece diameters can range from 5-270mm. Internal gear diameters greater than 12mm can be measured. Gear face widths of up to 500mm can be measured as well as gears with helix angles less than 90-degrees.

Costs for a standard INOVA gear measuring machine with Wenzel TGear gear measuring software and Tamo axis alignment software is approximately $180,000.00. The INOVA sets a new benchmark for accurate gear inspection on the production floor as an integral part of manufacturing cells.

Xspect Solutions, Inc. headquartered in Wixom, Michigan, and is a wholly owned subsidiary of Wenzel GmbH of Germany. Xspect Solutions is the Number 3 supplier of CMMs and GMMs (Gear Measuring Machines) in the North American metrology market.

Wenzel GmbH manufacturers its products intrinsically accurate, negating the need for the huge error compensation files to achieve quoted accuracies which have become the norm for most manufacturers in past years. The black granite used by Wenzel is processed in-house at their impressive manufacturing facilities in Germany, not imported from China pre-finished...which in now the industry norm.

Send all Inquiries To:

Keith Mills, Xspect Solutions, Inc.

47000 Liberty Drive

Wixom, Michigan 48393

Tel: (248) 295-4300 Fax: 248-295-4301

kmills@XspectSolutions.com

More from Fluid & Gas Flow Equipment