GC/MS System comes in 3 pump configurations.
Press Release Summary: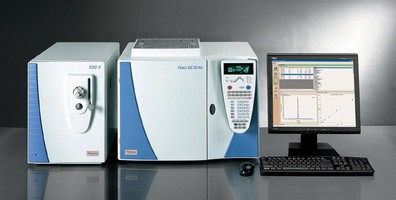 With scan speeds greater than 11,000 amu/sec, Model DSQ II Single Quadrupole GC/MS System features mixed scan mode capabilities for sequential selected ion monitoring and full scan analysis. It incorporates DynaMax XR ion detection system that allows for linear quantitation across 6 orders of magnitude and DuraBrite(TM) ion source that has source designs to increase robustness with heavy matrix samples. Xcalibur(TM) software provides complete control of system.
---
Original Press Release:

Thermo Announces Its New Single Quadrupole GC/MS System to Accelerate Productivity in the Workplace



AUSTIN, Texas (Aug 11, 2006) - Thermo Electron Corporation, the world leader in analytical instrumentation, introduces the latest product innovation for laboratory GC/MS - the DSQTM II. Based on the proven reliability and performance platform of Thermo's DSQ and PolarisQ GC/MS systems, the DSQ II incorporates the new DynaMax XR ion detection system and the DuraBrite(TM) ion source.

The DynaMax XR detection system allows for linear quantitation across six orders of magnitude and higher, increasing the effective analysis range of the instrument while decreasing sample preparation requirements. The DuraBrite ion source features enhanced source designs to increase robustness with heavy matrix samples. An optional new closed electron ionization (CEI) ion volume further enhances performance with environmental samples. Using a curved pre-filter and the DuraBrite source, the DSQ II significantly reduces neutral noise, providing enhanced sensitivity, even at low femtogram levels. This innovative instrument offers increased sensitivity, extended linear range, and advanced fast scanning for lower levels of detection. With continued product enhancements in ion source and detector technologies, the new DSQ II is ideal for routine GC/MS analysis across a wide range of applications including environmental, food safety, forensic chemistry and toxicology.

Three pump configurations provide expanded capabilities and flexibility for a variety of applications: a 70 Liters per second (L/sec) turbomolecular pump for electron ionization/mass spectrometry applications, a 250 L/sec turbomolecular pump for the addition of chemical ionization or solids probes, and a 200/200 split flow pump for ultimate performance with differential pumping. Upgrades to vacuum interlock, chemical ionization, solids probes and pulsed positive ion/negative ion chemical ionization (PPINICI) are also available.

The DSQ II has the industry's fastest scanning capability by a single quadrupole system with scan speeds greater than 11,000 amu/sec. The DSQ II comes standard with advanced mixed scan mode capabilities for sequential selected ion monitoring (SIM) and full scan analysis. This feature offers the enhanced sensitivity of SIM with the added confidence of full-scan fingerprints. Powerful Xcalibur(TM) software provides complete control of the GC/MS system, while application-specific software such as EnviroLab(TM) Forms 2.0, ToxLab(TM) Forms 2.0, and ToxLab 2.0 provide processing, data control and work flow functions for today's busy laboratories.

Please send all leads from this editorial to: analyze@thermo.com

About Chromatography and Mass Spectrometry
A leader in quadrupole ion trap, hybrid, and magnetic sector mass spectrometers, liquid and gas chromatographs and hyphenated multi-instrument combinations of these products, Thermo's integrated solutions include state-of-the-art instrument systems, advanced software and GC & HPLC column technology with a wide range of innovative phases and hardware designs - tailored to meet the rigorous demands of lab professionals in applications such as proteomics, drug discovery, environmental analysis and analytical quantification. For more information, visit www.thermo.com/gc

About Thermo Electron Corporation
Thermo Electron Corporation is the world leader in analytical instruments. Our instrument solutions enable our customers to make the world a healthier, cleaner and safer place. Thermo's Life and Laboratory Sciences segment provides analytical instruments, scientific equipment, services and software solutions for life science, drug discovery, clinical, environmental and industrial laboratories. Thermo's Measurement and Control segment is dedicated to providing analytical instruments used in a variety of manufacturing processes and in-the-field applications, including those associated with safety and homeland security. For more information, visit www.thermo.com

More from Agricultural & Farming Products