Gaylee Saws Will Be Exhibiting Their Line of Solid Carbide and Carbide-Tipped 'Thin Saws' at the 2012 IMTS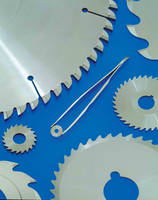 Sterling Heights, MI - Gaylee Saws will be exhibiting their line of solid carbide and carbide-tipped 'Thin Saws' at the 2012 IMTS Show at Booth W-2474 in the Tooling Pavilion.

These high precision, tight tolerance thin saws provide dependable performance and extended tool life. Solid carbide saws from Gaylee Saws provide the ultimate combination of:

o Maximum cutting speeds for minimum cost per unit of production, and increased output;

o Unmatched tool life (up to 100 times the life of high speed steel), giving dramatic savings in machine downtime, regrinding and tool costs;

o Exacting precision and finish of cut (generally burr-free);

o Extreme precision of saw tolerances; +.0005" / -.0000" on thickness, and +.005" / -.000" outside diameter. (Tighter tolerances are available as specials.)
Gaylee Saws also features 24 Hour shipment (up to 6 pieces) of standard dimensioned carbide saws in diameter ranges of ¾" through 4" (20mm - 6.35mm).

The company will also be featuring their line of thread mills for multiple spindle screw machine threading attachments. These arbor-mounted thread mills are designed to cut external threads with increased throughput and optimal thread quality.

Gaylee Saws is a Global Specialty Solutions, Inc. company.