Gauge Profiler offers extended lip-adjusting stroke.
Press Release Summary: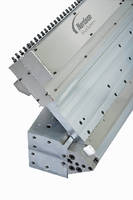 Retrofittable on existing dies, EDI™ Autoflex VI-E provides automatic gauge control of film and coatings. Unit is capable of correcting for changes in throughput, line speed, target thickness, and other process parameters, often without need for manual intervention. Lip adjusters include thermally actuated copper alloy translators that are linked to computer-controlled downstream gauge monitor. Stroke of translators provides gauge control by causing die gap to increase or decrease.
---
Original Press Release:

Much Greater Lip-Adjusting 'Stroke' of New-Generation Autoflex Gauge Profiler for EDI(TM) Dies Broadens Scope for Automation



Nordson's Industry-Workhorse System for Automatic Gauge Control of Film and Coating Is Now Also Smaller, Lighter, and Easier to Access for Maintenance



CHIPPEWA FALLS, WI, U.S.A., -- A redesign of Nordson Corporation's widely used EDI™ Autoflex VI flat extrusion die has increased the "stroke" of the lip adjusting system by 43% without adding to response time, enabling it to correct a wider range of process variations, often without need for manual intervention, it was announced today by Nordson, which will introduce the new system at K 2016 (Hall 2, Stand G06).



The design of the new Autoflex VI-E lip adjusting system is also dramatically smaller and more streamlined, simplifying disassembly and substantially reducing the time for maintenance.



While all flat dies with gauge profiling systems have a flexible lip made up of individual adjuster blocks arrayed along the product width, the adjusters in the Autoflex VI die include thermally actuated copper alloy translators that are linked to a computer-controlled downstream gauge monitor. The movement, or stroke, of these translators provides gauge control by causing the die gap to increase or decrease. By providing a much larger stroke without an increase in response time, the new Autoflex VI-E system has a greater capacity to correct for changes in throughput, line speed, target thickness, and other process parameters while remaining in automatic mode.



"Nordson redesigned the Autoflex VI system in response to feedback from customers, who told us their greatest needs were for increased automation and reduced downtime," said Sam G. Iuliano, business development manager for polymer dies. "The greater responsiveness of our new system will be particularly valuable in thin-gauge applications such as cast film and extrusion coating."



To reduce downtime, Nordson has redesigned the Autoflex VI gauge adjustment system to make replacement of wear components in the adjuster blocks faster and easier. In the new-generation Autoflex VI-E system, disassembly has been reduced from 19 steps to six, and each lip adjustment component can now be accessed individually. It takes about ten minutes to replace a lip adjustment component, compared to an hour with the standard design. In addition, the Autoflex VI-E system is smaller and lighter than the standard system. A unit for an 82-in. (2085 mm) die, for example, weighs nearly 20% less.



The new Autoflex VI-E unit is retrofittable on existing dies. It is available with either convective or forced-air cooling. Like the earlier Autoflex VI system, the Autoflex VI-E system is also available in a modular version that can be removed from the die as a complete unit.



An Industry-Standard System Now Provides More Automation and More Uptime



"The EDI Autoflex VI system is used worldwide by thousands of companies for automated thickness-uniformity refinement of film, sheet, and coatings," said Mr. Iuliano. "The enhanced responsiveness of the Autoflex VI-E system enables cast film and extrusion coating processors to increase output while ensuring high levels of product quality and consistency. The easy-maintenance design further boosts productivity by eliminating much of the downtime and labor involved in repairing or replacing lip-adjustment components."



The combination of the Autoflex VI-E system and a computerized gauge monitor typically yields closed-loop control that reduces gauge variation to about half of the minimum achievable with manual systems. In addition to mechanical adjustments with screws, the lip adjustment components in all Autoflex VI-E systems are actuated by cartridge heaters.  When a thicker-than-target area is detected in the film or coating, power to the cartridge heaters at the corresponding points in the flexible lip is automatically increased; this causes the adjuster blocks to thermally expand, which tightens the lip gap in the area.  Conversely, thinner-than-target areas are addressed by a reduction in power.



Key aspects of the redesign to streamline the Autoflex VI-E system and make it more compact include 1) making all lip-adjustment components accessible from the top or rear of the Autoflex unit, eliminating need for disassembly near the lips of the die; 2) eliminating exposed electrical leads by routing the wires from each adjuster segment directly to a junction box; and 3) eliminating multiple components that previously needed to be removed for disassembly.



Nordson Corporation engineers, manufactures and markets differentiated products and systems used for the precision dispensing of adhesives, coatings, sealants, biomaterials, polymers,  plastics and other materials, fluid management, test and inspection, UV curing and plasma surface treatment, all supported by application expertise and direct global sales and service.  Nordson serves a wide variety of consumer non-durable, durable and technology end markets including packaging, nonwovens, electronics, medical, appliances, energy, transportation, construction, and general product assembly and finishing.  Founded in 1954 and headquartered in Westlake, Ohio, the company has operations and support offices in more than 30 countries.  Visit Nordson on the web at http://www.nordson.com, @Nordson_Corp, or www.facebook.com/nordson.



Nordson Polymer Processing Systems provides customers with engineered components to melt, homogenize, filter, meter, and give shape to plastic and fluid coating materials. Nordson Corporation leverages the collective plastics industry experience from a series of strategic acquisitions to offer a uniquely broad portfolio of industry-leading technologies.  Nordson delivers a full range of precision melt stream products — from screws and barrels for extrusion and injection molding — to filtration systems, pumps, and valves — to the extrusion dies and pelletizing systems to meet the constantly evolving needs of the polymer industry.



Nordson Corporation provides customers with local technical sales, service and remanufacturing capabilities through sales organizations and regional manufacturing facilities in over 30 countries.  To learn more visit us at http://www.nordsonpolymerprocessing.com or www.facebook.com/NordsonPPS.



More from Thermal & Heating Equipment