Gateway Safety's Sound Series Earmuffs: Independently Tested for Proven Protection Levels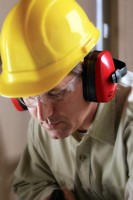 July 8, 2008--Dangerous noise exposure can cause a temporary decline in hearing, or a ringing in the ears that eventually goes away after a short time. Daily exposure to such loud noises can lead to irreversible, incurable hearing loss. The good news is that noise-induced hearing loss is 100 percent preventable by using proper hearing protection.

Hearing protection devices, such as earmuffs, should be used to reduce noise levels to a safe intensity. Gateway Safety's Sound Series Earmuffs, including SoundChoice(TM), SoundDecision(TM), and SoundOut(TM), have been tested by an independent NVLAP-accredited* laboratory and assigned a Noise Reduction Rating, or NRR. The NRR measures the earmuff's ability to block out noise or reduce the intensity of sound, and the rating is stated in decibels. By using an independent NVLAP-accredited* laboratory, Gateway Safety gives both wearers and employers peace of mind with earmuff ratings that are as accurate as possible.

SoundChoice(TM) - 22 db NRR. An economical, di-electric earmuff that still offers premium features, such as a fully adjustable, padded headband and adjustable swivel cups that offer a more effective seal. SoundChoice provides the degree of protection required for more than 90 percent of workplace noise hazards and low-level sound environments.

SoundDecision(TM) - 25 db NRR. A high-quality and cost-effective choice for mid-level hearing protection. SoundDecision is a di-electric earmuff with a three-position, padded headband. In addition to being fully adjustable, SoundDecision is also lightweight - just 8.7 ounces - to provide all-day comfort.

SoundOut(TM) - 28 db NRR. These high-quality earmuffs feature di-electric protection, with a self-adjusting headband that swivels easily into three positions. Soft foam cushions, adjustable swivel cups, and adjustable, padded headband offer a close seal and a comfortable fit. SoundOut sets the industry standard for protection in high-noise environments.

Gateway Safety, Inc. designs and manufactures cost-effective, dependable eye, hearing, respiratory, and head and face protection products that workers want to wear. Since 1944, Gateway Safety, Inc. has made it its mission to help companies increase safety compliance and improve the overall welfare of their employees--which, in turn, helps companies reduce the high costs associated with eye and face injuries.

The National Voluntary Laboratory Accreditation Program (NVLAP) is a voluntary, fee-supported program to accredit laboratories that are found competent to perform specific tests or calibrations, or types of tests or calibrations. The program was established by the National Institute of Standards and Technology (NIST) in 1976 to serve the needs of the government and private sector (industry, consumers, and other stakeholders) by fostering and promoting a uniformly acceptable base of professional and technical competence in the laboratory community, and to facilitate and promote acceptance of calibration and test results between countries to avoid barriers to trade. The program provides an unbiased third-party evaluation and recognition of performance, as well as expert technical guidance to upgrade laboratory performance. For further information on NVLAP, visit http://ts.nist.gov/Standards/upload/What-is-the-NVLAP.pdf.

For more information contact: Gateway Safety, Inc., 11111 Memphis Ave., Cleveland, OH 44144. Or call 800-822-5347. Fax: 216-889-1200. Web: www.gatewaysafety.com. E-mail: info@gatewaysafety.com.

More from Material Handling & Storage