Gateway connects serial ASCII devices to DeviceNet(TM).
Press Release Summary: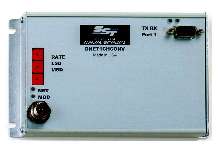 Serial-to-DeviceNet Gateway provides users with simple connection to communicate with peripheral devices. Data can be read/written using polling or explicit messaging and COS. Defined as communications adapter on DeviceNet system, it includes 128-byte buffer and supports 115.2 Kbaud serial data rate and byte swapping. DB-9 connector provides connectivity to serial device, while ODVA-approved Brad Harrison connector is provided for network connections.
---
Original Press Release:

Serial to DeviceNet(TM) Gateway


Connect Existing Serial ASCII Devices to DeviceNet

November 2002, Waterloo, Canada. Woodhead Connectivity announces the release of its Serial to DeviceNet Gateway.

This gateway solution allows you to simply connect existing serial ASCII devices to DeviceNet. Whether it is a preferred motor controller, bar code scanner or printer, this gateway allows a simple, convenient connection to these peripheral products. With this gateway, you can communicate with the connected peripheral devices just as you would any other device found on a DeviceNet network. Data can be read/written using either polling or explicit messaging and COS. This gateway is defined as a communications adapter on the DeviceNet system and has a simple connectivity and hardware setup. A DB-9 connector provides connectivity to the serial device and an ODVA-approved Brad Harrison connector on the device for connection to the network. Unlike many gateways, the user interface for setting up the serial device takes only minutes as the set up arrangement is simple and intuitive.

"This device's powerful feature set includes a 128 byte buffer, support of 115.2 Kbaud serial data rate and byte-swapping along with its simple set-up sets a new standard for serial gateways" claims Bob Wettermann, Director of Marketing, Woodhead Connectivity.

The SST Serial to DeviceNet gateway solution is referenced in the Rockwell Automation Encompass(TM) program. As quoted from the Rockwell Automation Encompass(TM) web site: "The Encompass(TM) Program is a product referencing program designed to identify, qualify, and jointly market third-party manufactured products that complement the breadth of world-class products developed by Rockwell Automation's global brands; Allen-Bradley®, Reliance Electric®, Rockwell Software and Dodge®. The program enables customers to choose from a complementary array of products, expertise and industry knowledge, and allows them to confidently build a complete automation solution and a strong competitive advantage."

Other Woodhead Connectivity solutions include PC/PLC interfaces, gateways, I/O simulation software, diagnostic tools, connectors, cable assemblies, and connection blocks.

About Woodhead Connectivity
Woodhead Industries, Inc. (Nasdaq: WDHD) develops, manufacturers and markets electronic and industrial communications products, primarily serving the global automation and control market with connectivity solutions and specialty electrical products. Through its Woodhead Connectivity group it provides the industrial automation industry with a single, worldwide source for industrial communication and connectivity solutions. Woodhead Connectivity's product lines, comprised of six recognized industry-leading brands: SST(TM), Brad Harrison®, mPm(TM), RJ Lnxx®, applicom® and NetAlert!(TM) make it the premier supplier of application-specific connectivity solutions.

For more information on SST products, go to www.mysst.com, email us at sales@mySST.com or phone: 519-725-5136. Links to information on other Woodhead Connectivity brands, can be found by going to http://www.woodheadconnectivity.com/


More from Controls & Controllers