Gates Corporation Announces New Automotive Accessory Belt Drive System (ABDS) Display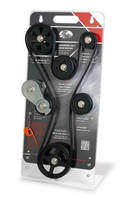 The educational tool demonstrates how servicing entire belt drive system ensures optimum performance.

DENVER, Colo. - The Automotive Aftermarket division of Gates Corporation, a leading global manufacturer of industrial and automotive products and the world's largest manufacturer of accessory drive belts and related components, today announced the release of its new interactive Accessory Belt Drive System (ABDS) display and sales support materials.

According to the Car Care Council, one in five vehicles on the road today needs a new belt. Due to advancements in belt construction and rubber compounds, it is difficult to detect when a belt is worn past its service life and needs to be replaced. To assist distribution channel partners and automotive service providers with educating consumers on the importance of their vehicle's accessory belt drive system and the benefits of proper maintenance, Gates has created the engaging sales tool and visual aid.

"With the success of our recent Timing Belt display and the need for increased serpentine belt inspection and replacement in the marketplace, we have created an ABDS display to promote the importance of inspecting and replacing belts, tensioners, and pulleys when needed," said Dave Miller, Gates Aftermarket VP of Marketing. "Our campaign focuses on a 'system' approach to diagnosing belt wear issues, and the display is a great way for our customers to show consumers exactly why these parts are important to optimum engine and accessory drive performance."

The display, which is 12 inches wide, 27 inches high, and 6 inches deep, can be placed on a countertop or mounted to a wall and features a drive system replica including a serpentine belt, crank pulley, automatic belt tensioner, idler pulley, water pump/fan pulley, alternator/alternator decoupler pulley, and power steering pulley. The North American display is bilingual and includes English and Spanish sales aids while the Canadian version is in English and French.

In addition to the display, the ABDS display kit includes drive system diagnostic tools for professional technicians and sales aids to capture consumer attention. Each kit is shipped with everything needed to educate consumers and show them the value of a complete system repair and includes:

o Laser Alignment Tool - Confirms proper alignment of belt drive system.

o Belt Wear Gauges & Instruction Cards - Used to determine wear of serpentine belts.

o Customer Waiting Area Poster - Captures consumer attention in and encourages request for belt inspection.

o Consumer Brochure - Explains how the belt, tensioner, and pulleys work together as a team to ensure system is operating at peak efficiency.

o Counter Mat - Illustrates system approach showing the functions of individual components and symptoms of worn belts, tensioners, and pulleys.

o Belt Stick Sample - Visual aid to help consumers understand when a belt is ready for replacement.

o Belt & Tensioner Rebates - Three $20 consumer rebates off the purchase of a Gates Micro-V AT belt and DriveAlign tensioner.

The part number for the ABDS Display Kit is #91046 and can be ordered through participating distribution channel partners. To learn more about the Gates ABDS display, visit www.Gates.com/ABDSDisplay or contact your Gates sales representative.

For media inquiries, please contact Mari Jane Panek at 303.744.4533 or mjpanek@gates.com.

About Gates Corporation

Gates Corporation (gates.com) is one of the world's leading manufacturers of industrial and automotive products, systems, and components with operations in 30 countries. Gates maintains sales and marketing operations in every major industrial and automotive market, including North and South America, Europe, Asia, Australia, and the Middle East.

Gates is part of the Industrial & Automotive group of Tomkins Ltd., which is owned by a consortium comprising Onex Corporation and the Canada Pension Plan Investment Board. Tomkins enjoys strong market positions and technical leadership across all of its business activities and owns some of the best-known brands in their respective markets.