Stepper Motor Controllers and Drives
Gate Driver features integrated microstepping translator.
Press Release Summary: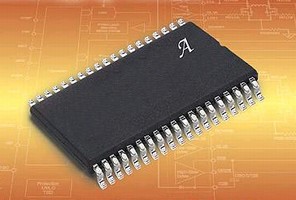 Suitable for driving medium to high-power bipolar 2-phase stepper motors, dual full-bridge Model A3986 provides all necessary circuitry to ensure that gate-source voltage of high-side and low-side external MOSFETs is above 10 V, and gate capacitance is quickly charged and discharged. Two sinusoidal DACs generate reference voltage for 2 separate fixed-off-time PWM current controllers. Full step to 16th step microstepping control minimizes system vibration.
---
Original Press Release:

Allegro Announces New Dual H-Bridge Gate Driver with Microstepping Translator



High Current Stepper Motor Driver Solution With Minimal External Components

Worcester, MA, September 7, 2006 - Allegro announces the release of the A3986, a dual full-bridge gate driver with integrated microstepping translator suitable for driving a wide range of medium to high-power bipolar two-phase stepper motors. Allegro's A3986 addresses the market need for a low-cost stepper motor driver that exceeds the output current range of existing fully integrated IC solutions limited to 2.0 to 3.0 A. Full step to sixteenth step microstepping control reduces system vibration and improves the overall positioning accuracy. Targeted at the industrial and office automation markets, Allegro's A3986 provides an efficient and easy to implement solution.

Motor power is provided by external N-channel power MOSFETs at supply voltages from 12 V to 50 V. The A3986 provides all the necessary circuitry to ensure that the gate-source voltage of both high-side and low-side external MOSFETs are above 10 V, and the gate capacitance is quickly charged and discharged in order to reduce power dissipation during switching.

This device contains two sinusoidal DACs that generate the reference voltage for two separate fixed-off-time PWM current controllers. These provide current regulation for external power MOSFET full-bridges.

The PWM regulators automatically switch between slow and fast or mixed decay mode. This patented current decay scheme results in reduced audible noise, increased step accuracy and lower power dissipation.

The two-wire step and direction translator interface is the key to the implementation of the A3986. Simply inputting one pulse on the STEP input drives the motor one step (full, half, quarter, or sixteenth depending on the microstep select input). There are no phase-sequence tables, high frequency control lines, or complex interfaces to program. This reduces the need for a complex microcontroller.

Using synchronous rectification enhances efficiency and the external power MOSFETs are protected from shoot-through by integrated crossover control and programmable dead time. In addition to crossover current control, internal circuit protection provides thermal shutdown with hysteresis and undervoltage lockout. Special power-up sequencing is not required.

Allegro's A3986 device is supplied in a (Pb) free 38-pin TSSOP package with 100% matte tin leadframe platting. The A3986SLD-T is priced at $3.04 in quantities of 5,000.

About Allegro
Allegro MicroSystems, Inc. is a supplier of advanced mixed-signal power semiconductors and Hall-effect sensors targeted toward the automotive, communications, computer/office automation, consumer and industrial markets. Allegro maintains a leadership position in the integrated magnetic sensor and integrated motor driver product segments. With more than 2,000 employees, Allegro is headquartered in Worcester, MA. Further information about Allegro can be found at www.allegromicro.com.

More from Food Processing & Preparation