Tube / Pipe / Hose Cutters and Cutting Machinery
Gate Cutters have heavy-duty design.
Press Release Summary: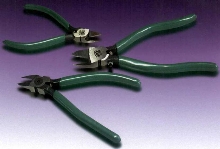 Drop forged from alloy steel, Gate Cutters are precision machined and heat treated to ensure sharp, durable edges. Products are available with flat or rounded back blades and feature slim line profile and fast-acting coil spring. Both 5 and 6 in. models have bow style handles, while 6 and 7 in. flat back cutters are offered with right or left hand, ergonomic style handles or adjustable blade stop. All units have non-slip plastic grips.
---
Original Press Release:
New Line of Economical Heavy Duty Gate Cutter Available From IMS Company

March 2005

Chagrin Falls, Ohio.....IMS Company introduces a new line of Gate Cutters that combine strength and economy, so you can reduce cutter costs without reducing quality.

The new IMS Gate Cutters are drop forged from alloy steel, then precision machined and carefully heat treated to ensure sharp, durable edges. Cutters are available with flat or rounded back blades and feature a slim line profile and fast-acting coil spring. 5" and 6" models have bow style handles. 6" and 7" flat back cutters are available with right or left hand, ergonomic style handles or adjustable blade stop. All have non-slip plastic grips.

Because these heavy-duty gate cutters are priced so inexpensively, when the blades become dull, the cutters can simply be discarded. Prices range from $5.75 to $12.50. Quantity discounts of up to 8% are available.

IMS is a leading distributor of auxiliary equipment and supplies for the plastics processing industry.

For more information about the new line of heavy-duty economical Gate Cutters available from IMS Company, send an e-mail to sales@imscompany.com or contact IMS Company, 10373 Stafford Road, Chagrin Falls, Ohio 44023-5296. Phone: 800.537.5375. Fax: 888.288.6900.

About IMS Company

IMS Company, headquartered in Chagrin Falls, Ohio, has been providing accessory equipment and supplies to the plastics processing industry for over 50 years. The company specializes in helping customers find innovative solutions to all types of plastics processing problems. In addition to providing quality molding accessories, equipment, and refurbishing services, IMS offers a toll-free hotline for engineering and technical support.

http://www.imscompany.com/

ORDER LINE: 800.537.5375 TECH-SUPPORT TOLL-FREE HOTLINE: 866.467.9001
More from Transportation Industry Products