Gasoline Containers have child-resistant closures.
Press Release Summary: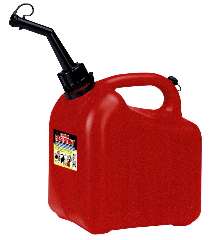 Models CP-10, CP-20, CP-500, and CP-60 have 1, 2, 5, and 6 gallon capacities, respectively. Containers have passed Child Resistant Closure testing protocol established by US Consumer Product Safety Commission. Spill-resistant containers are self-closing and self venting, and also include child-resistant feature. Ergonomic handle provides secure, comfortable grip even while wearing gloves.
---
Original Press Release:
Chilton Introduces Gasoline Containers with Child Resistant Closures and Self-Closing Spouts
Milwaukee, WI -- Western Industries, Inc.'s Chilton Gas Can Division has introduced an important new feature for consumer gasoline containers-child resistant closures. Chilton is the first to design and manufacture an innovative combination of closures that make a common household item, the gas can, harder for young children to open. All new consumer fuel containers produced by Western under its Chilton® brand will include these new patent-pending closures. Chilton's new gasoline containers passed the Child Resistant Closure testing protocol established by the U.S. Consumer Product Safety Commission. To pass the protocol, a product must be opened by no more than 10% of the children in the test group under specified test conditions. Yet, at least 90% of seniors must readily open the container. Chilton's new design passed both tests, showing that the product is both harder for children under the age of five years to open, and easy enough for most seniors to use. The new line of child resistant gasoline containers, models CP-10, CP-20, CP-500, and CP-60 have one, two, five and six gallon capacities, respectively. Also in the line are containers for diesel and kerosene. The containers are available at major retailers across the nation. Chilton has also introduced a spill resistant gasoline container with a self-closing spout. This container meets new mandatory regulations for gas cans adopted in California and those being considered in numerous other states. The new Chilton spill resistant containers are self closing and self venting. They also include Chilton's new child resistant feature. To compliment the revolutionary child resistant and spill resistant benefits of the new fuel containers, Chilton has also engineered them for improved balance and easier pouring. The ergonomic handle is designed to provide a secure, comfortable grip even while wearing gloves. The Chilton brand is best known as a full line of gas, kerosene and diesel cans, marine fuel tanks, and oil drain pans. For further information about the new line of fuel containers with child resistant and spill resistant closures, e-mail: gwwilley@westernind.com
More from Sensors, Monitors & Transducers