Welding Rods, Wire and Electrodes
Gas Shielded Flux-Cored Wire is suited for 100% Co2 welding.
Press Release Summary: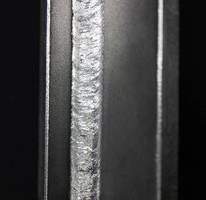 Available in 0.045 in. dia on 33 lb wire baskets, Stoody® 625-T1C is designed for all-position welding of Alloy 625 and dissimilar metals using 100% CO2 shielding gas. Composition of this gas shielded flux-cored joining wire results in all-weld deposit with iron content below 1%, which suits applications requiring corrosion resistance. Classifications include AWS A5.34/A5.34M:2013; ENiCrMo3T1-1; and, ISO: TNi 6625-11.
---
Original Press Release:

Stoody® Introduces Alloy 625 All-Position Gas Shielded Flux-Cored Wire Suitable for 100% Co2 Welding



Florence, SC – Stoody®, an ESAB brand, announced today that it has added a new gas shielded flux-cored joining wire product, Stoody 625-T1C. The newly released joining wire has been specifically designed for the all-position welding of Alloy 625 and dissimilar metals using 100% CO2 shielding gas.



The Stoody 625-T1C project was initially driven by direct inquiries from the Asian marketplace where mixed shielding gases are more expensive and at times harder to obtain than CO2. This product builds on the 15 years of experience Stoody has in making nickel based flux cored wires.



Other notable features of the new Stoody 625-T1C wire include a composition that results in an all-weld deposit with iron content below 1%, which is essential for applications requiring enhanced corrosion resistance. Typical applications of the product include:



Joining nickel-chromium-molybdenum alloys

Welding clad sides of joints in steels clad with Ni-Cr-Mo metal

Surfacing steel with Ni-Cr-Mo weld metal

Joining steels to nickel based alloys

Joining 9% nickel steels for cryogenic service



Stoody 625-T1C is available in 0.045" (1.2 mm) diameter on 33 lb. (15 kg) wire baskets.  Classifications include AWS A5.34/A5.34M:2013; ENiCrMo3T1-1; and, ISO: TNi 6625-11. For more information on product specifications and packaging, including detailed product data sheets, visit www.stoody.com.



Stoody 625-T1C is part of Stoody's wide range of tailored hardfacing and high alloy joining solutions to address wear caused by abrasion, impact, corrosion and heat. Stoody welding consumables include wire and stick electrodes, as well as powder alloy products that support the steel, power generation, petroleum oil and gas drilling, recycling, cement, pulp and paper, agricultural, metal casting, construction and other industries worldwide.



About ESAB

ESAB Welding & Cutting Products is a recognized leader in the welding and cutting industry. From time-honored processes in welding and cutting to revolutionary technologies in mechanized cutting and automation, ESAB's filler metals, equipment, and accessories bring solutions to customers around the globe. For more information, visit www.esab.com or call 1-800-ESAB-123.



FOR MORE INFORMATION, CONTACT:

Chris Daniel

270-495-3976

chris.daniel@esab.com

More from Packaging Products & Equipment