Gas Monitor operates in oxygen depleted environments.
Press Release Summary: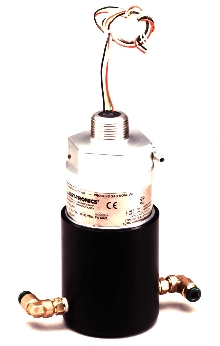 PIRVOL point-infrared volumetric combustible gas monitor measures in range of 0 to 100% by volume. It is suitable for oil and gas wellhead mud-logging, hydrocarbon processing, and extractive sampling applications. Instrument is CSA-approved for Class 1, Div 1 groups B, C & D, and Div 2 groups A, B, C and D (T3C) hazardous areas, and conforms to EN50081-1 and EN50082-1 standards. Self-monitoring system has built-in diagnostics and needs no routine calibration.
---
Original Press Release:
IR Detector Answers Need for Volumetric Gas Measurement

Minneapolis, MN, USA. Det-Tronics manufacture PIRVOL, a point-infrared volumetric combustible gas monitor, designed to fill the need for an instrument measuring hydrocarbon in the range of 0 to 100% by volume.

Ideally suited to oil and gas wellhead mud-logging, hydrocarbon processing and a variety of other extractive sampling applications, the instrument is CSA-approved for Class 1, Division 1 groups B, C & D and Division 2 groups A, B, C and D (T3C) hazardous areas, and conforms to EN50081-1 and EN50082-1 standards.

Supplied with a five-year warranty and featuring sapphire optics for industrial-grade hardness, the device has no undisclosed failure modes and affords a significantly longer working life than hot-wire systems. It is self-monitoring with built-in diagnostic information, needs no routine calibration and offers reduced maintenance costs.

This process gas monitor operates in oxygen depleted environments and also performs reliably in prolonged exposure to high concentrations of background gases, being unaffected by silicones or hydrides that poison other devices. A hydrophobic screen provides superior optics protection and the instrument's small "form factor" enables easy system integration.

For further information and reader inquiries contact Jim Vogel at Detector Electronics.

AGM Associates, International PR - Alan Godfrey/Larry Spieler

265 High Street, Dorking, Surrey RH4 1 RL, UK

Tel: +44 (0)1306 883666; Fax: +44 (0)1306 884666; Email: agmuk@btconnect.com
More from Software