Gas-Fired IR Conveyor Oven features 16 zones of control.
Press Release Summary: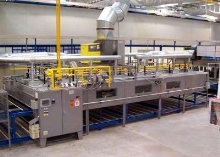 Suited for automotive industry to cure water-based coatings on cow hides, model 808CM09516 cures 18 g of wet paint in 1 min and removes moisture associated with cure process via variable-frequency-driven exhaust system. Oven utilizes SunCat(TM) heater that uses catalyst technology and operates at temperatures from 800-1,700°F. Combustion blower feeds oxygen to face of heater, heating parts not in line of sight of IR. Product is rated at 1,408,000 BTUH @ 2 psi.
---
Original Press Release:

Gas Infrared Cures Coatings on Cow Hides


Wisconsin Infrared Systems' model 808CM09516, a Gas Catalytic Medium-Wave Conveyor Oven, was designed and manufactured for the automotive industry, to cure water-based coatings on cow hides. This oven is designed to cure 18 grams of wet paint in one minute as well as remove the moisture associated with the cure process using a variable frequency driven exhaust system. The oven features 16 zones of control to provide optimum heat and infrared to the hides. This design also provides the flexibility to control each heater independently.

The oven uses a special heater, the SunCat(TM) , which uses the latest catalyst technology. The SunCat(TM) can operate at temperatures up to 1700 °F, and as low as 800 °F. The heaters have a combustion blower that feeds oxygen to the face of the heater. This also acts as a convective source of air, which allows heating of parts that are not in "line of sight" of the infrared (which is commonly needed).

The oven is constructed using tubular steel construction with 2" of insulation sandwiched between a 20 gauge steel outer and inner skin. The controls are designed with the most advanced control for gas catalytic infrared, utilizing individual heater control, modulating gas valves, PLC & HMI touch screen and Ethernet and modem capabilities. Additionally, the equipment uses the variable frequency driven exhaust to control chamber temperature and a gas train with modulating motors to save on fuel consumption. This heating system is rated at 1,408,000 BTUH @ 2PSI, and the oven for 150-275 °F.

Additional features available include: customized oven sizes, batch or conveyor systems, Full PLC control, data acquisition systems, operation on different fuels, Watch Dog® Oven Management Systems, and "turn key systems".

For further details, contact Wisconsin Infrared Systems at (262) 642-4200, or by email at infrared@wisoven.com.

More from Materials