Gas and Chemical Sensors / Detectors
Gas Detection System monitors wet wells.
Press Release Summary: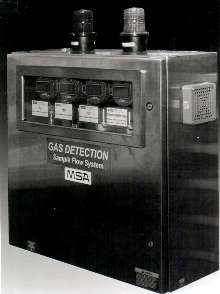 Ultima® Custom 4-Gas Detection System continuously monitors and displays concentrations of oxygen, hydrogen sulfide, carbon monoxide, and combustible gas. System comes in NEMA 4x stainless steel enclosure and includes over-range protection, automatic adjustments for calibration, date of last calibration, and over-LEL protection. Internal dc sample pump features built-in flow sensor, fault indicator, fault relay, and sample draw capability up to 100 ft.
---
Original Press Release:

MSA Announces New 4-Gas Detection System For Wet Well Monitoring


The new 4-Gas Wet Well Monitoring Custom System from MSA Instrument Division is designed to provide the continuous monitoring and display of four gas concentrations: oxygen, hydrogen sulfide, carbon monoxide and combustible gas. This system is engineered for optimal performance in confined spaces in wastewater treatment plants, such as concrete bar screen pits.

Based on the best-selling Ultima® Monitor, the system features complete calibration (without manual intervention) along with a self-contained record of the latest calibration date and time. The optional auto-calibration module permits permanent gas connection and calibration at designated time intervals.

System Contents:
o MSA Ultima sensors for O2, CO, H2S and combustible gas detection featuring over-range protection, local display, automatic adjustments for calibration, date of last calibration and over-LEL protection.
o Internal DC sample pump with built-in flow sensor, fault indicator, fault relay and sample draw capability up to 100 feet.
o Two common alarm relays, single pole-single throw, and one trouble relay, single pole-double throw.
o NEMA 4X stainless steel enclosure.
o AC to DC power supply.
o Flashback arrestor for LEL sensor.

Optional Accessories include combustible gas detection using a Point IR sensor for LEL levels, a unit-mounted red strobe, unit-mounted red and yellow strobes and a federal horn with a 'silence' push button.

For more information on this Ultima® Custom System, request literature #07-2061, by dialing 1-800-MSA-4678, or contact your nearest MSA sales representative. To learn about MSA and our other high quality products, visit our web site at: www.MSAgasdetection.com

More from Electrical Equipment & Systems