Gas Cylinders are suitable for oxygen, argon, and helium.
Press Release Summary: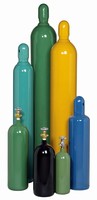 High-pressure gas cylinders are made from 4130X Chrome Moly Steel. All size 300, 250,
and 220 cylinders are manufactured by Billet Pierce process, while medical D through 150 size cylinders are manufactured by spinning process. Cylinders 80 cf and larger come with plain or embossed neckring and cylinder cap. Acetylene cylinders, aluminum
cylinders, valves, caps, and neckrings are available.
---
Original Press Release:

Cyl-Tec, Inc. Offers High-Pressure Gas Cylinders For Oxygen, Argon, Helium And Other Compressed Gases



Aurora, IL - Cyl-Tec, Inc. now offers steel, compressed gas
cylinders to complement the cylinder testing and maintenance
services the company has provided since its inception in 1991.

Cyl-Tec's high-pressure gas cylinders are suitable for oxygen,
argon, helium and other compressed gases. All of its top-quality
cylinders are U.S. DOT and TC approved and manufactured to allow
for PLUS and STAR rating.

Cylinders are made from 4130X Chrome Moly Steel. All size 300, 250
and 220 cylinders are manufactured by the Billet Pierce process.
All medical D through 150 size cylinders are manufactured by the
spinning process.

Cylinders that are 80cf and larger come with a plain or embossed
neckring and cylinder cap. Acetylene cylinders, aluminum
cylinders, valves, caps and neckrings are also available.

Standard sizes of new cylinders are kept in stock. Cyl-Tec offers
quick shipment and competitive prices worldwide. Assistance with
financing is available.

Since 1991, Cyl-Tec, Inc. has been an industry source for
high-quality cylinder maintenance. Cyl-Tec now offers a wide range
of products to complement its respected cylinder testing and
maintenance services. For more information, contact: Cyl-Tec, Inc.,
950 West Industrial Drive, Aurora, IL 60506; Phone: 888-429-5832
or 630-844-8800; Fax: 630-844-5100; e-mail info@cyl-tec.com; or
visit www.cyl-tec.com.

For more information, contact:
Jim Bennett: 630-844-8800
James Nowakowski: 847-358-4848

NOTE: Please send leads to: Cyl-Tec, Inc., 553 N. North Ct.,
Ste. 110, Palatine, IL 60067 or email: leads@interlinegroup.com


More from Mounting & Attaching Products