Gas Chromatograph reduces analysis time.
Press Release Summary: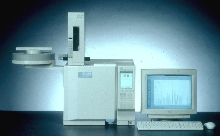 GC-2010 features fast heating oven, automatic retention time updating, and accommodates up to 4 columns. LCD window graphically shows all of operations of GC, including chromatogram in progress. GC Solution Software connects system to Internet or local LAN; provides target compound, peak grouping, and multiple calibration fits; and controls wide variety of autosamplers. Dedicated software is available for petrochemical applications.
---
Original Press Release:
Ultra Fast GC-2010

Shimadzu Scientific Instruments has introduced the GC-2010 series which combines ease-of-use with extraordinary speed and precision to offer enhanced productivity and performance flexibility for a wide range of applications. The GC-2010 features a fast heating oven up to 130°C/min and can accommodate up to 4 columns. New high-sensitivity detectors make this the standard for the industry. The system has RSD for repeated injection accuracy up to 0.2% and automatic retention time updating. A third generation Automatic Flow Control (AFC) coupled with electronic control of detector gases results in superior retention time stability. High speed GC is standard with the GC-2010 which can provide a six-fold decrease in analysis time. Twenty temperature ramps and Constant Linear Velocity enable superior separation capability. A large LCD window shows graphically all of the operations of the GC including the chromatogram in progress.

GC Solutions software for the new GC-2010 offers the most comprehensive data system capabilities of any GC system available. With GC Solution the system can be connected to the internet or local LAN. Target compound, peak grouping, multiple calibration fits are all standard. A wide variety of autosamplers can be controlled with GC Solution software. For petrochemical applications. Shimadzu makes dedicated software available which can improve productivity.

For more information, call 800-477-1227, Fax: 410-381-1222, visit our web site at www.ssi.shimadzu.com or write Shimadzu Scientific Instruments, Inc. 7102 Riverwood Drive, Columbia, MD 21046.


Related