Gas Chromatograph comes with mass spectrometer.
Press Release Summary: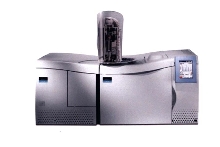 Clarus(TM) 500 GC has rotating autosampler tower, PreVent(TM) pressure control system, and intuitive touch screen for real-time signal display. Screen supports 7 languages. For applications requiring additional capabilities, 500 GC can be coupled to Clarus 500 MS quadrupole mass spectrometer. Combinations can be configured for tasks ranging from dedicated analyzers in petrochemical industry to mass spectrometer units for environmental and forensic applications.
---
Original Press Release:

PerkinElmer Launches New Gas Chromatography Line


Clarus 500 GC Redefines "Ease of Use" with Industry's Most Intuitive User Interface; New GC/MS is World's Fastest Quadrupole Mass Spectrometer

SHELTON, Conn. - PerkinElmer Instruments today announced the release of its new Clarus(TM) 500 Gas Chromatograph (GC) and Gas Chromatograph/Mass Spectrometer (GC/MS), offering a revolutionary approach to GC instrument control. An intuitive touch screen features real-time signal display and supports seven languages. The proven reliability of PerkinElmer's GCs delivers superior performance in both research and quality control environments.

"This innovative Clarus system was designed with the customer's current and evolving needs in mind," said Stephen P. DeFalco, president of PerkinElmer Instruments. "It allows users to interact with a GC in a much more intuitive way, reducing the learning curve, speeding routine interaction, and providing lower cost per analysis."

Unique features, such as a fast rotating autosampler tower, a PreVent(TM) pressure control system, and easy serviceability, enable the Clarus systems to deliver maximum GC productivity. Available in customizable configurations ranging from dedicated analyzers for petrochemical applications to powerful mass spectrometer units for environmental and forensics applications, the sleek Clarus 500 GC is extremely flexible.

For applications requiring mass spectrometer detection, the Clarus 500 GC can be coupled to the new Clarus 500 MS, the industry's fastest scanning and widest mass range quadrupole mass spectrometer, allowing users a greater scope of applications.

The Clarus 500 GC/MS features a wealth of innovative technology to provide the most complete characterization of samples. PerkinElmer's Selected Ion and Full Ion (SIFI) scanning technology and high scan speed increase system throughput and accuracy. The instrument also includes proven gold component technology for enhanced performance. State-of-the-art electronics process more scans across each peak, resulting in unmatched accuracy and precision and better overall spectral fidelity.

The PerkinElmer headspace and thermal desorption sample handling devices can also be integrated into the Clarus systems, providing a single vendor solution for applications such as beverage analysis, ambient air testing, environmental work, and more. For data management and reporting, PerkinElmer's award-winning data handling software makes managing data easier than ever. PerkinElmer also backs all its products with factory- trained field support in more than 129 countries worldwide.

About PerkinElmer Instruments
PerkinElmer Instruments, an advanced technology company, provides application-specific analytical solutions for the pharmaceutical, food and beverage, environmental, chemical, and semiconductor industries. Applying technologies such as spectroscopy, chromatography, thermal analysis, and informatics, PerkinElmer Instruments provides systems that identify and quantify chemicals, materials, and biochemicals. With locations in over 129 countries, PerkinElmer Instruments is committed to high-quality, global customer service. For more information, please visit the company's Web site at perkinelmer.com/instruments

For further information:
Stephanie Wasco
PerkinElmer Instruments
(203) 402-1700

PerkinElmer is a trademark of PerkinElmer, Inc. Clarus is a trademark of PerkinElmer Instruments LLC.