Gas Blender mixes shielding gases without electricity.
Press Release Summary: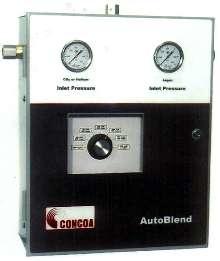 AUTOBLEND(TM) Series non-electric blender enables users to create precise custom-blended gas mixtures on site for GTAW (TIG) and GMAW (MIG) industrial welding applications. Eliminating time-consuming cylinder handling, product provides 7 preset, 2-component gas blends and maintains blend accuracy under all flow conditions. Product offers automatic cycling technology and pressure equalization system and provides up to 450 scfh at delivery pressures of 10-45 psig.
---
Original Press Release:

New Gas Blender Mixes Shielding Gases Without the Need for Electricity


Instrument Maintains Mix Accuracy Under All Flow Conditions

June 1, 2003 - Virginia Beach, VA -- CONCOA has introduced a new, easy-to-use, non-electric blender that enables users to create precise custom-blended gas mixtures on site for GTAW (TIG) and GMAW (MIG) industrial welding applications.

Designed to increase productivity by eliminating time-consuming cylinder handling, the AUTOBLEND(TM) Series provides seven preset two-component gas blends. Utilizing pure gases such as argon, carbon dioxide, and helium, the AUTOBLEND enhances quality by maintaining the blend accuracy even at low flow conditions. Through patent-pending automatic cycling technology, the AUTOBLEND eliminates bad mixes and poor welding conditions under low flow conditions. Little or low flow conditions can occur during inactive periods such as overnight or weekend time frames. The AUTOBLEND eliminates the hassle of displacing all the bad gas in the pipeline when work resumes.

A pressure equalization system minimizes the effect of inlet pressure fluctuations on the mix concentration. The low inlet pressure requirements allow for accurate mixing even while cryogenic supply sources are filled. Additionally, an optional low-pressure remote alarm can be integrated with other building systems via contact interface providing a higher level of integration.

The AUTOBLEND provides up to 450 SCFH at delivery pressures of 10 to 45 PSIG. The blender comes standard with a wall mounted lockable enclosure to assure process control.

Certified ISO 9001, CONCOA manufactures a complete quality line of gas pressure and flow control equipment and delivery systems for worldwide medical, industrial, and specialty gas applications as well as distribution equipment for laser materials processing. For more information or a full-line catalog, call 1-800-225-0473 (U.S.), 31-30-2672-303 (Europe), 603-8739-8828 (Pacific), or visit the CONCOA Web site at www.concoa.com.

More from Printing & Duplicating Equipment