Gantry-Type Bandsaw cuts material 2.5 m across.
Press Release Summary: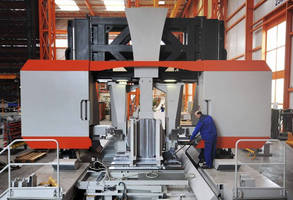 Using bimetal or carbide-tipped blades, KASTOmaxcut comes in 4 versions with max material cutting dimensions from 1,600 x 1,600 mm to 2,500 x 2,500 mm. Unit incorporates stationary table and moving saw head, and standard version includes table length and longitudinal travels of 4 m, extendable in 1 m increments. Along with 2 independently guided, fully enclosed saw heads, features include laser-based material height recognition and BandControl cutting process monitor.
---
Original Press Release:

Bandsaw Cuts Material 2.5 Metres Across



A new, gantry-type bandsaw has been introduced by KASTO, designed for cutting slabs, ingots, forgings, forged parts, ships' crankshafts, turbine shafts and large parts in tool and mould making, as well as blanks and workpieces in the heavy machine building industry.

Called KASTOmaxcut, the machine is available in the UK through the German manufacturer's Milton Keynes subsidiary. The saw uses bimetal or carbide-tipped blades and is available in four versions - A 16, A 16x20, A 20 and A 25 - for cutting 1,600 x 1,600 mm up to 2,500 x 2,500 mm maximum material dimensions. Table length and longitudinal travels are four metres in the standard version, but can be extended in one-metre increments.

Of robust design and durable construction, the machine incorporates high performance elements such as ballscrew infeed drives for the two independently guided saw heads, which are fully enclosed. The band normally runs horizontally, but the saw unit can be tilted when cutting plate and other flat material, or when processing scaled stock, to prolong blade life. Band drive is effected by a play-free planet gear and belt system.

The closed portal design allows installation without the need for expensive foundations, reducing capital investment. Loading stock onto the machine and removal of cut pieces and remnants is facilitated by a material support height of only 700 mm.

Standard equipment includes hydraulic material clamping by two horizontally acting vices and a vertical vice with integral coolant supply, a recirculating coolant system, efficient chip removal via deep, V-shaped channels at the machine sides, and laser-based material height recognition to minimise non-cutting times. Easy access speeds material set-up and blade changeover.

KASTO's own BandControl system monitors the cutting process. It reduces the saw feed by 25 per cent when the maximum permissible deviation is exceeded by 75 per cent. If the value is exceeded again, the feed rate is reduced once more and the machine shuts down automatically if the maximum deviation is reached for a third time.

In addition to the gantry design with stationary table and moving saw head, an alternative version of KASTOmaxcut is available with a moving table and fixed blade. All machines can be equipped with alternative controls, clamping technology and peripheral equipment to suit the intended cutting applications.

On behalf of: KASTO Ltd, Unit 5, Garamonde Drive,
Wymbush, Milton Keynes, MK8 8DF.
Tel: 01908 571590. Fax: 01908 566106
E-mail: sales@kasto.uk.com
Web site: www.kasto.uk.com
Contact: Ernst Wagner, Managing Director.


More from Mechanical Components and Assemblies