Gangways are designed using metal-stamping technology.
Press Release Summary: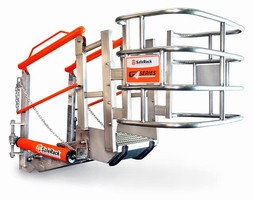 SafeRack G4 Gangways are constructed of aluminum parts that are stamped out in tool-and-die process, allowing reproducibility yielding accurate replacement parts that can be bolted into original product. They include 90 shared parts that fold or unfold as gangway is used. Other features include slip-resistant tread on stairs, powder-coated handrails and midrails, heavy-duty bumpers, durable springs, and 4-rail design for fall protection.
---
Original Press Release:

SafeRack Introduces Upgraded Line of Loading-Rack Gangways



The G4's patent-pending design expected to "revolutionize the industry"

SUMTER, SC, March 10, 2008-SafeRack, LLC, the leading provider of stronger, safer and easier-to-handle truck and railcar loading-rack and fall-protection equipment for the petroleum, biofuel, specialized chemical, food/pharmaceutical, cement and other industries, has announced the availability of its redesigned, patent-pending SafeRack G4 Gangway. In development for 18 months, the G4 uses cutting-edge metal-stamping technology to create a stronger gangway that is at the same time lighter and smoother to operate.

Traditional gangway design features parts that are made of galvanized steel or aluminum and then welded together, a construction process that yields heavy gangways that are susceptible to cracked or fatigued welds after prolonged use, leading to costly repairs or untimely breakdowns. SafeRack's G4 Gangways are constructed using parts, most often aluminum, that are stamped out in a tool-and-die process and then formed by bending the metal into the required shape, eliminating the need to weld the pieces together. This production process is also quicker than the one used for legacy gangway systems, allowing for more expedient delivery and turnaround time for the customer.

"When welding aluminum, the aluminum has to be thick enough to receive a full-penetration weld to bond the two parts together," explained Rob Honeycutt, Cofounder of SafeRack, LLC. "When bending the material used in the construction of the G4, you can use thinner, lighter materials that will actually be stronger than the welded parts. This new design is a really big deal for our industry. It's a pretty powerful sales tool."

All SafeRack gangways have 90 shared parts that fold or unfold as the gangway is used. The use of the new metal-stamping technology means that the gangways are more reproducible, as well. This reproducibility also yields accurate replacement parts that can be bolted into the original gangway. Also, in the past, if a gangway were hit by a truck or railcar it would have been destroyed. With the new design of the G4, if an accident occurs, SafeRack now has the capability to deliver bolt-in replacement parts on a same-day basis.

"Eighty percent of the welds on the gangway have been eliminated," said Honeycutt, "and virtually all of the welds that remain are not direct-impact welds, they are stitch welds or plug welds that aren't load-bearing."

While lighter materials that don't require welds are used on the G4, that doesn't mean that any of the quality associated with SafeRack products has been sacrificed. In fact, the metal-stamping tooling offers the same 4,000ths tolerance on each of the 21 pivot points on the G4 that is found on SafeRack's other gangways. To test the strength of the new G4 design, SafeRack engineers placed more than 2,000 pounds-or four times the recommended load-on the outermost portion of the gangway. The only thing that failed during the test was the platform that was built to support the gangway during the testing process.

"With this technology, all of the pivot points on the gangway line up and don't egg out, and they don't wear out as the gangway rotates up and down," said Honeycutt. "This results in a noticeably smoother operation and much longer life."

In addition to aluminum construction, SafeRack also plans to offer a stainless-steel model that-thanks to the weld-less metal-stamping construction process-can use more expensive stainless steel that will actually reduce the price to the customer. The stainless-steel G4 model will be corrosion-resistant and half the weight of a galvanized model, making it easier to raise and lower.

While the G4 offers the capability to revolutionize the industry, it will still have the operator-friendly features that SafeRack's gangways have become known for, namely slip-resistant tread on the stairs, powder-coated handrails and mid-rails, heavy-duty bumpers, strong and durable springs, four-rail design for maximum fall protection and easy operation. All customers looking to purchase a G4 gangway will also receive a personal visit from one of SafeRack's highly trained, experienced sales force to map out the needs and options for their particular loading-rack operations. Once the project is approved, SafeRack makes sure that the equipment is installed correctly and functioning properly, and is always on call to answer any subsequent questions.

"That is the high point of what we do at SafeRack, how we do it and what we have that nobody else has: more than 200 years of experience in our direct-sales force that goes into plants, does an analysis of the operations and comes up with solutions that fit the particular needs of those plants," said Honeycutt.

For more information on the G4 or any other SafeRack loading-rack of fall-protection solutions, please contact Tom Semiklose, Sales Manager, at (866) 761-7225 or tsemiklose@saferack.com, or visit www.saferack.com.

SafeRack, LLC, is committed to providing stronger, safer and easier-to-handle truck and railcar loading-rack and fall-protection equipment. Headquartered in Sumter, SC, SafeRack has more than 200 years of combined experience in offering the food/pharmaceutical, specialized chemical, pulp and paper, building products, plastics, cement, mining, petroleum, biodiesel and ethanol industries high-quality equipment that has been customized for each customer's unique loading applications. For more information, please visit www.saferack.com.

More from Controls & Controllers