GaN MMIC Power Amplifier suits pulsed radar applications.
Press Release Summary: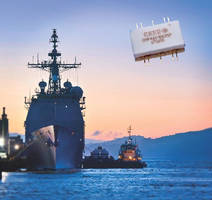 Rated for 25 W and 8.5–11.0 GHz operation, Model CMPA801B025 features 37 W typical POUT, 16 dB power gain, 35% typical power added efficiency, and less than 0.1 dB power droop. X-Band GaN MMIC Power Amplifier is internally matched to 50 Ω, and is supplied in both 10-lead metal/ceramic flanged package, and smaller form factor pill package for optimal electrical and thermal performance.
---
Original Press Release:

Wolfspeed to Launch New X-Band GaN MMIC @ DMC 2015



Wolfspeed, A Cree Company and a leading global supplier of GaN-on-SiC high electron mobility transistors (HEMTs) and monolithic microwave integrated circuits (MMICs) with best-in-class reliability, is exhibiting at DMC 2015, which will take place November 30 – December 3 in Phoenix. 



Widely recognized as America's largest annual forum for addressing the production, evolution, and sustainment of critical defense manufacturing capabilities that are both reliable and affordable, DMC provides attendees ranging from government and industry participants to academics with the requisite policy, strategic investment planning, program management, risk mitigation, workforce education, and training efforts necessary for efficient technology adoption. As such, representatives from Wolfspeed's RF Foundry — the world's largest dedicated, commercial wide bandgap production device facility — will be onsite at Booth #706 to promote their advanced, U.S. Department of Defense (DoD) manufacturing readiness level (MRL8+) and Category 1A Trusted Foundry services, in addition to their 25W X-Band GaN MMIC power amplifier for pulsed radar and broadband CW applications.



Designated the CMPA801B025, Wolfspeed's X-Band GaN MMIC power amplifier, rated for 25W and 8.5–11.0GHz operation, delivers high performance in a small form factor and features: 37W typical POUT, 16dB power gain, 35% typical power added efficiency (PAE), and <0.1dB power droop. The GaN MMIC is also internally matched to 50Ω, and is supplied in both a 10-lead metal/ceramic flanged package and a new, smaller form factor pill package for optimal electrical and thermal performance.



Visitors to Wolfspeed's DMC Booth can view static samples of the new X-Band GaN power amplifiers, and can speak with Ryan Fury, Wolfspeed's RF Foundry program manager, and Sarah Miller, a marketing representative for Wolfspeed's RF Components, for additional details regarding device performance and the many benefits it can provide in defense applications. Additionally, all visitors who scan their badges at the Wolfspeed booth will be entered into one of two random drawings, to be held on Monday and Tuesday, November 30 and December 1, for a chance to win an Apple Watch®.



"Communications play a crucial role in military readiness and defense operations, so it's critical that these systems are developed, from inception to completion, with the most effective, efficient, and reliable components available," said Ryan Fury, foundry program manager, Wolfspeed. "Wolfspeed not only delivers industry-leading GaN-on-SiC RF technology especially designed to enable next-generation communications systems, but also provides world-class design assistance, proven fabrication processes, testing, and support to help customers realize their specifications, and has a proven track record of doing it with faster cycle times, higher first-pass design successes, and greater reliability than our competitors."



For more information about Wolfspeed's new CMPA801B025 25W X-Band GaN MMIC power amplifier, please click on one of the product numbers to access the datasheet. For more information about Wolfspeed's RF Foundry services and components, please visit http://wolfspeed.com/RF/Foundry-Services and http://wolfspeed.com/RF, or visit Booth #706 at DMC 2015, November 30 – December 1 in Phoenix. For all other inquiries about Wolfspeed™ foundry services and RF components, please contact Sarah Miller, marketing, Wolfspeed, at sarah.miller@wolfspeed.com  or 919-407-5302.



About Wolfspeed

Wolfspeed, A Cree Company, is liberating power and wireless systems from the limitations of silicon by leading the innovation and commercialization of next-generation systems based on silicon carbide and gallium nitride.



Wolfspeed's wide bandgap semiconductor products for power and radio-frequency (RF) applications deliver new levels of performance through increased efficiency, higher switching frequency and reduced system size and weight for the transportation, industrial and electronics, energy and communications markets.



Please refer to www.wolfspeed.com for additional product and company information.



About Cree

Cree is leading the LED lighting revolution and making energy-wasting traditional lighting technologies obsolete through the use of energy-efficient, mercury-free LED lighting. Cree is a market-leading innovator of lighting-class LEDs, LED lighting, and semiconductor products for power and radio frequency (RF) applications.



Cree's product families include LED fixtures and bulbs, blue and green LED chips, high-brightness LEDs, lighting-class power LEDs, power-switching devices and RF devices. Cree® products are driving improvements in applications such as general illumination, backlighting, electronic signs and signals, power suppliers and solar inverters.



Please refer to www.cree.com for additional product and company information.



Cree® is a registered trademark and Wolfspeed™ is a trademark of Cree, Inc.



Apple Watch® is a trademark of Apple Inc., registered in the U.S. and other countries.

WS112 DMC 2015 MA

More from Fluid & Gas Flow Equipment