Gaging Products are suited for use in metrology.
Press Release Summary: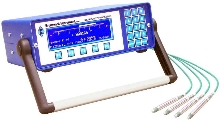 Metrology Processor line of electronic dimensional inspection gaging products features graphic LCDs for measurement data manipulation and display. Configured with up to 8 digital gage probe inputs for inspection of several variables, series lets users define multiple part feature setups as well as simple or complex mathematic formulas. Results, presented in digital numerals or analog bar-graph, can be sent to external data collection devices.
---
Original Press Release:

New "Metrology Processor" Line of Products


Brunswick Instrument, inc., of Niles, IL announces their new "Metrology Processor" line of electronic dimensional inspection gaging products.

Several different unit models all contain powerful data processors and bright liquid crystal graphic displays for a wide variety of measurement data manipulation and display capabilities. Measurement accuracy and stability has been significantly improved compared with previous designs.

Units may be configured with up to eight digital gage probe inputs, each accepting any of a wide range of available linear probe types. Connected probes may be a mixture of linear encoders, lever type or plunger type gage heads. The probes can be mounted in a variety of existing or available gage fixtures for inspection of diameter, thickness, length, concentricity, squareness, flatness, taper, depth and more. Probes are available with resolution as fine as five millionths of an inch (.2 micron) and strokes up to four inches (100mm). The digital probes are permanently calibrated and are linear throughout their full stroke.

Users can define multiple "part feature" setups each having unique tolerance limits, preset value, measurement resolution, peak-hold setting and display format. Different feature setups can be quickly selected by push-button or automatically switched with the "AutoSwap" function that senses activity at any connected probe. Measurements can be displayed one part feature at a time or in a Multi-Feature format that provides a quick view of multiple simultaneous measurements. Results can be presented in either digital numeric form or in analog bar-graph meter-style format and can be sent to external data collection devices.

Users can define simple or complex mathematic formulas to manipulate the individual probe values into geometrically meaningful results. Math functions include addition, subtraction, multiplication, division, exponentiation, square root, absolute value, trig functions, multiple levels of parenthesis and more. All setup information is retained in non-volatile memory.

Brunswick Instrument can also modify or create custom software for the products to solve special dimensional inspection problems.

More info available from:
Brunswick Instrument, Inc., 6150 W. Mulford St., Niles, IL 60714 Phone 847-965-9191 Web: www.brunswickinstrument.com

More from Test & Measurement