Fusible Link Shut-Off Valves Receive Factory Mutual Approval for Full Assemblies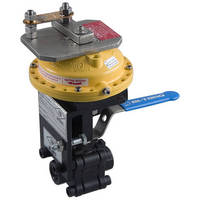 BI-TORQ® Valve Automation is pleased to announce that it has obtained full FM approval on the majority of its Fusible Link Packages (FLP). The FM approval now covers both the valve and topworks (mounting kit and up) together as a full assembly.



Currently-approved sizes include ½" and ¾" with NPT or socket weld ends connections and 2" through 4" in ANSI 150# flanged ends.



Fusible link valve packages are used in variety of applications including, but not limited to, diesel generators, paint or solvent lines, fuel systems, oxygen lines, chemical storage, and fire suppression.  Fusible link assemblies (also referred to as "electro-thermal shutoff valves") commonly are used to close a valve when activated, but can be used to fail open to vent a tank or release a fire suppression chemical.



"We are always looking for ways to stay atop of industry trends, especially with our fire safety products," said Dave Marut, BI-TORQ® Valve Automation CEO. "The approvals are just part of our overall plan to keep our position as a leader in the thermal shutdown market."



BI-TORQ® Valve Automation was established in 1995 with a single line of pneumatic rack and pinion actuators. The company has grown tremendously since then and now offers a full line of automated ball and butterfly valve packages, actuators and valves for retrofits, and a suite of safety products including fire safe fusible link assemblies, spring return handles, and fusible plugs. BI-TORQ® Valve Automation's parent company AVK Carbo-Bond is a family-owned business specializing in valve mounting kits, stem extensions, lock-out kits, and customized solutions such as butterfly valve tee linkages and tandem mounting kits.



More from Fluid & Gas Flow Equipment