Fuses and Fuse Holder target PV applications.
Press Release Summary: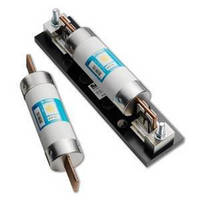 Available in standardized case size that meets UL Class H Dimensions, SPFR Series 1000 Vdc Solar Fuses comes in 250, 300, 350, and 400 A ratings. RoHS-compliant units also meet European system and North American utility scale requirements. SPFRHD Series 1000 Vdc Solar Fuseholder with lug termination is available to accommodate SPFR 1000 VDC Series Fuses. Both are UL-recognized to 1,000 V.
---
Original Press Release:

Littelfuse Releases New Solar Products to Meet Growing Industry Needs



Chicago, - Littelfuse Inc. (Nasdaq/NMS: LFUS), announced the release of the SPFR Series 1000 VDC Solar Fuse and the associated SPFRHD Series 1000 VDC Solar Fuseholder. The two new products expand on the SPF Solar Series introduced by Littelfuse in 2009, delivering broad-range protection to meet the higher amperage and voltage requirements of a number of PV applications.

"Littelfuse is innovating ahead of the curve to provide circuit protection for solar applications," commented Michael Swaim, Fuse Product Manager, Littelfuse. "We are building a strong portfolio to grow beyond our significant presence in the market."

Since solar requirements continue to evolve as the segment grows, the SPFR Series 1000 VDC Solar Fuse is offered in four different ampere ratings-250, 300, 350 and 400 amperes. "Littelfuse is actively developing new products to meet the constantly changing solar industry standards and regulations," says Swaim.

A key advantage of the SPFR Series 1000 VCD Solar Fuse is its standardized case size, which meets UL Class H Dimensions. The fuse also meets European system and North American utility scale requirements; and its RoHS Compliance minimizes environmental impact.

Also now available from Littelfuse is the lug-termination SPFRHD Series 1000 VDC Solar Fuseholder, which accepts the SPFR 1000 VDC Series Fuse. Both fuse and fuseholder are UL-Recognized to 1000 V.

Littelfuse offers a comprehensive Solar Catalog for a wealth of information on the full line of solar products currently available, including the new SPFR fuse and SPFRHD fuseholder. Visit www.littelfuse.com/green to download your free solar catalog now. For technical questions contact the Littelfuse Technical Services and Engineering Group at 1-800-TEC-FUSE or your local Littelfuse Sales Representative.

About Littelfuse

Littelfuse is the worldwide leader in circuit protection, offering the industry's broadest and deepest portfolio of circuit protection products and solutions. Backed by industry-leading technical support, design and manufacturing expertise Littelfuse products are vital components in virtually every product that uses electrical energy, including portable and consumer electronics, automobiles, industrial equipment and telecom/datacom circuits. In addition to its Chicago, Illinois, world headquarters, Littelfuse has over 20 sales, distribution, manufacturing and engineering facilities in the Americas, Europe and Asia. Technologies offered by Littelfuse include Fuses; Gas Discharge Tubes (GDTs); Positive Temperature Coefficient Devices (PTCs); Protection Relays; PulseGuard® ESD Suppressors; SIDACtor® Devices; Silicon Protection Arrays(TM)(SPAs); Switching Thyristors; TVS Diodes and Varistors.

SPF series product page:
http://www.littelfuse.com/products/Fuses/Solar/SPF.html?cm_mmc=ThomasNet-_-thomasnet.com-_-News%2FPress+releases-_-SPF+Series

SPFR series product page:
http://www.littelfuse.com/products/Fuses/Solar/SPFR.html?cm_mmc=ThomasNet-_-thomasnet.com-_-News%2FPress+releases-_-SPFR+and+SPFRHD+Series

More from Electronic Components & Devices