Fuse Holder is available for 60 mm classic busbar systems.
Press Release Summary: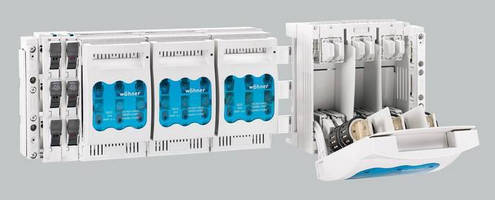 UL-listed QUADRON® CrossLink Carrier Class J fuse holders are designed so that fuses attach to touch-safe fuse holder cover, which doubles as fuse puller and allows space between fuses to be eliminated. Available for 30, 60, and 100 A fuses as well as 200 A frame size, fuse holder utilizes CrossLinkAdapter base. Adapter technology allows German NH00 or NH1 fuse clips to be plugged into same base adapter as UL Class J fuse clips, which gets mounted to 60 mm classic busbar structure.
---
Original Press Release:

Wöhner Launches Quadron® Crosslink Carrier Class J Fuse Holder for 60MM Classic Busbar Systems



- UL Listed Design Saves Space for Panel and Machine Builders -

Portsmouth, NH. Wöhner USA today announced the availability of their UL listed QUADRON® CrossLink Carrier Class J fuse holders for the 60mm classic busbar system that significantly reduces space in the panel. Traditional fuse blocks are 10 to 33% wider than the new Wöhner designs.

Kevin Saunders, Managing Director of Wöhner USA says, "Panel space is a precious commodity within the power distribution panel of industrial equipment. Our Quadron® CrossLink Carrier Class J fuse holder frees up space allowing the purchase of smaller and less expensive enclosures or to simply fit more into the same space."

By attaching the fuses to the touch-safe fuse holder cover, which now doubles as a fuse puller, the space between the fuses can be eliminated. This space would normally have been necessary to get a fuse puller in place to remove open fuses. The QUADRON® CrossLink Carrier Class J fuse holder is perfectly suited for panel builders and machine builders in a variety of industries.

The QUADRON® CrossLink Carrier Class J fuse holder is available in a compact design for 30A, 60A, and 100A fuses, as well as the slightly larger 200A frame size.

The QUADRON® CrossLink Carrier Class J fuse holder utilizes a CrossLinkAdapter base. This adapter technology allows German NH00 or NH1 fuse clips to be plugged into the same base adapter as the UL Class J fuse clips, which gets mounted to the 60mm classic busbar structure. This provides crucial machine design flexibility where a basic design can be modified quickly and easily to meet either UL or IEC standards. The machine can be modified very late in the game to include the fusible circuit protection most appropriate to the equipment's final destination. This is the meaning of CrossLink Technology by Wöhner.

About Wöhner
Tradition and innovation you can rely on. Since 1929, Wöhner has contributed to the safe and efficient distribution of electrical energy. Through eight subsidiaries, one joint venture and a comprehensive global network of distributors, Wöhner is able to provide a range of reliable, innovative and safe products that guarantee the low voltage supply of electricity for use in a wide variety of industries. http://www.woehner.com/en/

More from Cleaning Products & Equipment