Fun Fact: Handling Specialty is in the Guinness Book of World Records!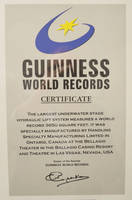 With a challenging project come great rewards. The largest underwater stage hydraulic lift system measures a world record 3,650 square feet. Who built this behemoth you ask? Handling Specialty Manufacturing Ltd.



Built for the Bellagio Casino, Resort and Theatre in Las Vegas, Nevada, the stage houses a show for Cirque du Soleil's "O".  The show takes place in a pool containing 1.5 million gallons of water. Four hydraulic lifts raise and lower the four-piece stage.



The success with this project marked the beginning of the company's recognition as one of the very few companies in the world capable of implementing a turn-key project of this size and complexity winning them work with cruise lines and other underwater stage firsts around the world, like The House of Dancing Waters in Macau.