Full Height Turnstiles support in-field configurability.
Press Release Summary: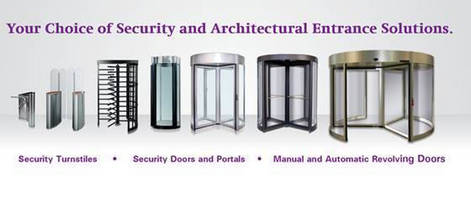 Configured at factory to match traffic flow, security, and safety requirements, full height turnstiles are available with top channel mechanism that allows in field, as needed adjustment of directional operations. Electrical turnstiles can support any combination of following operations per direction: fail-lock, fail-safe, locked, and free rotation. While mechanical turnstiles offer choice of locked or free rotation for each direction, conversion kit is also available for more choices.
---
Original Press Release:

Boon Edam Launches New Field-Configurable Full Height Turnstile



Lillington, NC – Boon Edam Inc., the leading manufacturer of security entrance solutions in North America, is proud to launch a new feature for all of its full height turnstiles: a re-engineered top channel mechanism that allows the turnstile's directional operations to be adjusted in the field as needed.  The new top channel mechanism is available effective immediately for all locations around the world.



As always, Boon Edam's customers can continue to order turnstiles configured at the factory to match their current traffic flow, security and safety requirements. For example, an electrical turnstile can be ordered as card-in and card-out with fail-lock and fail-safe operation during a power failure. However, if at a later time, the customer wants to change the operation so that the turnstile is fail-lock in both directions, the change can be made in less than 30 minutes by a trained technician.



Boon Edam's electrical turnstiles offer the most flexibility and can now support any combination of the following operations per direction:

• Fail-lock

• Fail-safe

• Locked (no rotation)

• Free rotation



"Our customers can usually tell us what they want today in terms of operation," says Kevin Blaine, Installation Manager. "This new feature is about the future, when ownership could possibly change hands or security needs could change. Since a turnstile can last a few decades, the ability to adjust operations at the site increases the flexibility and value of our customer's initial investment."



Mechanical turnstiles are primarily used for crowd control and offer a choice of locked or free rotation for each direction.  However, if later on a customer wants to deploy an access control system into their existing turnstile, they can now order a simple conversion kit complete with new solenoids and control box and have the same choices as an electrical turnstile for each direction of traffic.



For more information about the new field configurable top channel mechanism, call Boon Edam at 800-334-5552.



About Boon Edam:



Boon Edam is a global entrance solutions company that offers an extensive range of Revolving Doors and Security Access products, including manual and automatic revolving doors, security revolving doors and portals, and a full range of mechanical and optical turnstiles and access gates. To learn more, visit Boon Edam at www.boonedam.us.



For additional information:

Tracie Thomas  – Marketing Manager

Boon Edam, Inc.

Tel (910) 814-8113

Email  tts@boonedam.us

Website www.boonedam.us

More from Software