Full-Bridge Motor Driver IC supplies power to office equipment.
Press Release Summary: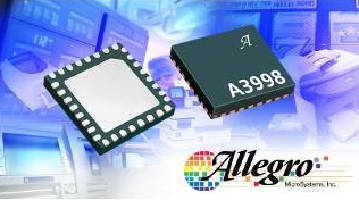 Supplied in 32-contact, 5 x 5 mm QFN package, Model A3998 incorporates 2 DMOS full-bridge outputs that are capable of 1.5 A at 50 V. Two power supply rails are provided for microprocessor or DSP supplies. Switching buck regulator steps supply down to adjustable low voltage output from 3.3-5 V. This voltage can be used to supply external 3.3 V or 5 V rails and also feeds back into part supplying adjustable, integrated linear regulator from 1-2.5 V.
---
Original Press Release:

Allegro MicroSystems, Inc. Announces New Dual DMOS Full-Bridge Motor Driver and Dual Regulators



With Overcurrent Protection and Serial Port Control

Worcester, MA - Allegro MicroSystems, Inc. announces a new integrated power IC that is designed to supply the motor driver and power supply requirements for office automation such as printers and scanners as well as industrial applications. Allegro's A3998 incorporates two high current, high performance, DMOS full-bridge outputs that are capable of 1.5 A at 50 V. Additionally, two power supply rails are provided for microprocessor or DSP supplies. A switching buck regulator steps the supply down to an adjustable low voltage output from 3.3 to 5 V. This voltage can be used to supply external 3.3 V or 5 V rails and also feeds back into the part supplying the adjustable, integrated linear regulator from 1 V to 2.5 V.

The A3998 serial port provides flexible configuration for the dual full-bridge motor driver. Two full-bridges can be programmed to control one stepper motor or two DC motors. Both bridges have integrated fixed off-time PWM current control with programmable decay mode selection. Maximum output current is set by an external VREF input voltage, sense resistor and serial port controlled four bit DAC for each bridge. The four bit non-linear DAC can be programmed to produce up to 16 current levels for full, half, 1/4, 1/8 and 1/16 microstep per step resolution in stepper motor configurations.

Internal circuit protection includes: thermal shutdown with hysteresis, under voltage lockout (UVLO), over current and crossover-current protection.

The A3998SETTR-T is priced at $2.63 in quantities of 1,000 and is supplied in a low profile, 32-contact QFN, 5 × 5 mm, 0.90 mm nominal height, with exposed thermal pad (suffix ET) package. The package is lead (Pb) free with 100% matte-tin leadframe plating.

Allegro MicroSystems, Inc. is a leader in developing, manufacturing and marketing high-performance semiconductors. Allegro's innovative solutions serve high-growth applications within the automotive market, with additional focus on office automation, industrial, and consumer/communications solutions. Allegro is headquartered in Worcester, Massachusetts (USA) with design, applications, and sales support centers located worldwide. Further information about Allegro can be found at www.allegromicro.com.

Contact information: Stephanie Fennelley, Allegro MicroSystems, 115 Northeast Cutoff, Worcester, MA 01606

More from Material Handling & Storage