Fujifilm Showcases Latest Digital Imaging Technologies at Photokina 2018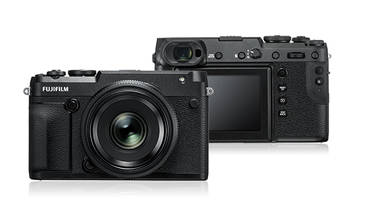 Newest additions to the X Series and GFX lineup of digital cameras and lenses and instax line of instant cameras will be on display for the first time to touch and try
VALHALLA, N.Y., Sept. 25, 2018 /PRNewswire/ -- FUJIFILM North America Corporation, providing the total imaging solution for photographers, will showcase its latest innovative products at Photokina 2018 in Hall 4.2 at Stands: A002, A010 B019, B002, B010 C019 and C010 D019 on September 26 – September 29, 2018 at the Koelnmesse, Fair Grounds, in Cologne, Germany.
Newest X Series and GFX Mirrorless Cameras, XF Lenses
Announced on September 25, the new rangefinder-style GFX 50R medium format mirrorless digital camera will make its debut at Photokina. Featuring a large 51.4MP G Format CMOS image sensor and X-Processor Pro image processing engine, the GFX 50R delivers superior image quality in a compact and lightweight body reminiscent of renowned medium format film cameras widely used in street and documentary photography. The GFX 50R is equipped with a 0.77x 3.69M-dot organic "OLED" electronic viewfinder for accurate focusing despite the large size of the medium format sensor. Weighing approximately 145g less than the GFX 50S, this camera is the first in the GFX system to feature Bluetooth® compatibility, and offers intuitive handling in a rugged, weather-sealed body to meet the varying needs of photographers.
Attendees will also see the new FUJIFILM X-T3, the latest addition to the X Series lineup and the world's first APS-C mirrorless camera capable of 4K/60P 10-bit recording to fulfill the performance needs of professional videographers. Featuring the latest, fourth generation 26.1MP X-Trans CMOS 4 APS-C sensor with no optical low-pass filter, the FUJIFILM X-T3 boasts the highest performance in the history of X Series. Utilizing the unique color filter array of X-Trans CMOS sensors to control moiré and false colors, it is the first APS-C back-illuminated structure sensor with phase detection pixels distributed across the surface to improve image resolution without compromising signal to noise ratio. The X-T3 also debuts the X-Processor 4 processor which features a Quad Core CPU to achieve a processing speed 3 times faster than previous X Series models, and providing incredible AF accuracy and speed.
The newest additions to the XF lens lineup will also be featured at the booth. The FUJINON XF8-16mmF2.8 R LM WR Lens, an ultra-wide angle zoom lens capable of providing outstanding edge-to-edge image-resolving performance, is perfect for landscape, architecture, and astrophotography and will be available to touch and try. In addition, the new FUJINON XF200mmF2 R LM OIS WR Telephoto Lens, the first super-fast telephoto lens in the XF lens lineup, and its accompanying XF1.4X TC F2 WR Teleconverter, will be featured. This lens boasts exceptional image clarity with the ability to produce beautiful bokeh, making it an ideal lens for shooting sports and wildlife.
New instax Cameras and Accessories
Also announced on September 25 and on display at Photokina is the new instax SQUARE SQ20, a hybrid instant camera, equipped with a digital image sensor and digital image processing technology offering users the ability to select their favorite images to print.
Available in two color options–matte black and glossy beige–the SQ20 offers new and enhanced features never before seen in the instax line of instant cameras. With the new motion mode, users can take a video of up to 15 seconds and choose the best moment (frame) of a moving subject to print, which can often times be difficult to capture. The new time shift collage function lets SQ20 users take 4 images at one time with a time difference by pushing a single button. The sequence filter offers the ability to capture dynamic images, adding a dreamy feel to the image. For added usability when taking selfies, a small mirror is located next to the lens to ensure accurate capture. Further, group photos are made easy with the SQ20's built in timer. With its special shooting modes, such as double exposure, bulb exposure and split mode, the SQ20 achieves added creative possibilities.
Show attendees will also see new color additions for the instax SQUARE SQ6 square format analogue instant camera that was introduced in May 2018. The SQ6 was originally available in three colors: Pearl White, Blush Gold and Graphite Gray. In October, the SQ6 will be also available in Ruby Red and Aqua Blue, both stylish colors that have been requested by instax users all over the world.
New instax Double Sided Stickers will also be on display which allows users to stick instax film quickly and easily to a multitude of surfaces. From walls to scrapbooks, users can display their instax pictures with ease. These new double sided stickers can be used with all instax film sizes and expand the creative possibilities that instax has to offer.
About FUJIFILM North America Corporation, Electronic Imaging
About FUJIFILM North America Corporation, Imaging
For more information, please visit www.fujifilmusa.com/northamerica, go to www.twitter.com/fujifilmus to follow Fujifilm on Twitter, or go to www.facebook.com/FujifilmNorthAmerica to Like Fujifilm on Facebook. To receive news and information direct from Fujifilm via RSS, subscribe at www.fujifilmusa.com/rss.
About Fujifilm 
FUJIFILM North America Corporation, a marketing subsidiary of FUJIFILM Holdings America Corporation consists of five operating divisions and one subsidiary company. The Imaging Division provides consumer and commercial photographic products and services, including: instant cameras and film, photographic paper; digital printing equipment, along with service and support; personalized photo products; film; and one-time-use cameras; and also markets motion picture archival film and on-set color management solutions to the motion picture, broadcast and production industries. The Electronic Imaging Division markets consumer digital cameras, and the Graphic Systems Division supplies products and services to the graphic printing industry, including offset plates and supplies, digital printing equipment and large format printers and ink. The Optical Devices Division provides optical lenses for the broadcast, cinematography, closed circuit television, videography and industrial markets, and also markets binoculars. The Industrial Division and Corporate New Business Development Division deliver products derived from Fujifilm core technologies. FUJIFILM Canada Inc. sells and markets a range of Fujifilm products and services. For more information, please visit www.fujifilmusa.com/northamerica, go to www.twitter.com/fujifilmus to follow Fujifilm on Twitter, or go to www.facebook.com/FujifilmNorthAmerica to Like Fujifilm on Facebook. To receive news and information direct from Fujifilm via RSS, subscribe at www.fujifilmusa.com/rss.
FUJIFILM Holdings Corporation, Tokyo, Japan, brings innovative solutions to a broad range of global industries by leveraging its depth of knowledge and fundamental technologies derived from photographic film. Its proprietary core technologies contribute to the fields of healthcare, graphic systems, highly functional materials, optical devices, digital imaging and document products. These products and services are based on its extensive portfolio of chemical, mechanical, optical, electronic and imaging technologies. For the year ended March 31, 2018, the company had global revenues of $23.0 billion, at an exchange rate of 106 yen to the dollar. Fujifilm is committed to responsible environmental stewardship and good corporate citizenship. For more information, please visit: www.fujifilmholdings.com.
CONTACT: Christine Appelbergh, Fujifilm, 914.789.8511, christine.appelbergh@fujifilm.com; Swetha Neni, Fujifilm, 914.789.8513, swetha.neni@fujifilm.com
More from Software