AC Motor Controllers and Drives
Fuji Electric Extends Warranty Three Years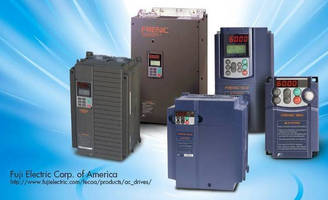 April 2009 - Fremont, Ca - Fuji Electric Corp of America (FECOA), announces that as of April 1, 2009, the warranty period for component general purpose AC Drives and commercial packaged energy-saving drives has been extended to
3 years.

Fuji AC drives are known as reliable, compact and economical designs. They are easy-to-use and conform to international standards. The decision to extend the warranty was based upon high performance and long-life, due to Fuji Electric superior quality, manufacture and Fuji Electric's own IGBTs power components, the standard for industrial and commercial drives.

At Fuji Electric we are offering our customers the best warranty in the industry and making their decision to purchase Fuji AC drives an easy one with the added confidence of a long trouble-free life.

The extended warranty policy guarantees repair or replacement of parts for the warranty period. Products covered are the FRENIC-Mini, FRENIC-Multi, FRENIC-Eco, FRENIC5000G11S, FRENIC5000P11S and EcoPAK for a 3 year period from the shipment date.

About Fuji Electric

Fuji Electric Corp. of America (FECOA) is responsible for the sales, marketing and distribution throughout Americas of the products manufactured by Fuji Electric Group companies. Perfected through extensive research, development and real-world applications, Fuji Electric products are unparalleled in quality and reliability. Fuji also offers electrical control components such as MCCBs, Pushbuttons and HMIs. For more information, please contact FECOA in Fremont, CA; at (510) 440-1060 or http://www.fujielectric.com/fecoa/.

More from Software