Front Surface Mirrors from Sycamore Glass Components Provide Increased Reflectivity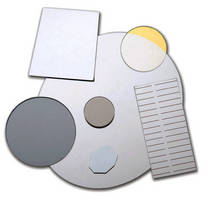 Sycamore Glass Components, a division of Abrisa Technologies provides front surface mirrors or first surface mirrors for a broad scope of optics applications. These mirrors have a long product life, superior durability, and can be cleaned easily.

Front surface mirrors by Sycamore Glass Components have over-coated dielectric layers that are vacuum deposited on the surface of a clear glass substrate to increase reflectivity and protect against humidity and abrasion. The sharper image created by a front surface mirror lacks the ghosting effect of a conventional mirror.

The substrate of choice for a front service mirror is float glass with a typical flatness and irregularity of 4 to 6 waves per inch. Typical thicknesses that are available from stock are 1mm, 1.6mm, 2.3mm, 3mm, 5mm, 6mm, and 10mm. Front surface mirror sizes are available in dimensions up to 74" x 130" or 1880 mm x 3320 mm in 3mm and 6mm thicknesses.

Enhanced aluminum mirror coatings reflect from 85% to 97% over the visible spectrum (400-700 nm)

Protected gold mirror coatings reflect an average of 97% over a broader spectrum (700-2000 nm)

Front surface mirrors provided by Sycamore Glass Components can be used in such applications as:

Industrial/Office Automation

- Photocopiers & document scanners

- Facsimile machines & laser beam printers

- Audio visual equipment & point-of-purchase scanners

- Cameras & analytical instruments

Military training simulators

Telescopes

Projection & broadcasting equipment

Front surface mirror coatings offered by Sycamore Glass Components conform to MIL-C-48497, MIL-M-1350BC, and MIL-STD-810C.


More from Materials