Front Mower has 36 hp motor for 15 mph transportation.
Press Release Summary: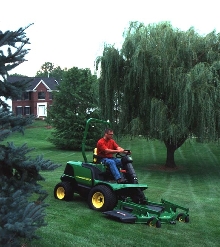 Model 1565 is powered by CARB certified 36hp Yanmar diesel engine, and has hydrostatic transmission and dual-speed transaxle. It reaches mowing speeds of 8.5 mph and transport speed of 15.5 mph. It offers 14.5 gal fuel tank, rear-mounted radiator, dual- element air cleaner, four-wheel drive, 55 A alternator, and power steering. Available with 60 and 72-in. side-discharge or rear discharge mowing decks, cut height can be adjusted from 1-5 in.
---
Original Press Release:
John Deere 1565 Front Mower ... Versatility At Its Best
Designed with commercial cutters, municipal landscapers and estate owners in mind, the John Deere 1565 Front Mower delivers more durability, versatility and performance to the Company's line of front mowers. Equipped with heavy-duty components, this mower offers an unmatched level of power, traction, maneuverability and mowing productivity for several applications, such as city parks, golf courses, schools and universities, cemeteries, airports and apartment and industrial complexes. The John Deere 1565 Front Mower is powered by a 36-hp, Yanmar diesel engine that features maximum torque for tough mowing conditions. Advantages of this CARB certified engine's technology include providing a better fuel economy, quieter operation, quicker starting and lower emissions levels. Full-pressure lubrication protects the engine even with frequent operation on slopes and hillsides. The mower's power is enhanced with a 55-amp alternator. For added productivity, the 1565 is outfitted with a 14.5-U.S. gallon fuel tank that provides enough capacity for all-day mowing. A self-bleeding fuel system makes it possible to restart the engine even when it runs out of fuel. A rear-mounted radiator helps lower noise levels, and a large bore and stroke provides excellent torque reserve for easier operation. In addition, the mower's dual- element air cleaner is equipped with an air restriction indicator to alert operators when servicing is required. The John Deere 1565 Front Mower features a Kanzaki hydrostatic transmission and dual-speed transaxle with forward mowing speeds of up to 8.5 miles per hour. The mower can also achieve a transport speed of up to 15.5 miles per hour. Mechanical four-wheel drive is standard on the 1565. Operators can choose between on-demand four-wheel drive, full-time four-wheel drive or full-time two-wheel drive. In the on-demand position, four-wheel drive automatically engages when needed, providing for additional traction. It disengages when not needed, maximizing the ability for sharper turning, maneuverability and trimming. The 1565 features a front-mounted offset mower deck that has a "Tail-Follows-The-Trail" design. An industry exclusive, this design allows for excellent maneuverability without the rear of the machine encountering obstacles and increases trimming capability and productivity. Its high-strength steel frame offers maximum durability and allows crucial components to be located lower in the machine, resulting in a low center of gravity that increases stability on hillsides and slopes. And its composite hood keeps the mower free from dents, rusting and fading. Internal wet disk brakes ensure steady stops and long life, while a modulated, hydraulic clutch with brake provides smooth PTO engagement. Heavy-duty, dual hydraulic cylinders lift the deck high to clear 8-inch curbs. And a cast-iron rear bumper defends the mower from obstacles that might get in the operator's path. Engineered for operator comfort and safety, the 1565 is outfitted with a deluxe, Grammer seat that adjusts to accommodate operators of different heights and weights. Armrests are standard. The mower is also equipped with power steering (2 turns lock-to-lock), reducing operator fatigue and increasing machine response and maneuverability. Tilt steering allows the operator to adjust the steering wheel to a desired position and provides additional clearance for entering and exiting the operator stand. The mower's patented two-pedal foot control system eases speed and direction control for the operator. In addition, the park brake is conveniently located above the forward and reverse pedals. For increased safety, the 1565 features Heads-up indicator lights that are located on the steering column. And the machine's 2-Post ROPs can be folded down for mowing under trees. For high-quality cutting performance, the 1565 Front Mower is available with 60- and 72- inch, side-discharge, 7-IRON® mowing decks. The decks have a unique baffling system that reduces clumping and provides uniform clipping dispersal. One-inch, cold-forged spindles are heat treated to provide added strength. Spindle housings are ribbed cast aluminum designed with reinforcing gussets, adding strength, additional cooling surface area and better distribution of loads over a larger area. Height of cut can be easily adjusted from 1 to 6 inches in 1/2-inch increments. The 1565 is also available with 60- and 72-inch, rear-discharge, 7-gauge mowing decks that are ideal for public areas where people and pets might be present during mowing hours. These decks, made with 7-gauge steel (.177 in.) also feature a unique baffling system to reduce clumping and windrowing usually associated with rear-discharge decks. Additionally, a %-inch solid bar welded to the mower deck perimeter adds strength. Height of cut can be easily adjusted from 1 to 5 inches in 1/2 inch increments. All John Deere commercial mowing equipment includes an exclusive two-year bumper-to-bumper warranty.
More from Controls & Controllers