Front Mower has 31 hp diesel engine.
Press Release Summary: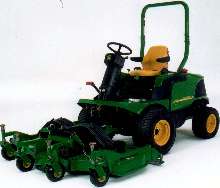 Model 1545 Front Mower is equipped with 31 hp Yanmar diesel engine with rear-mounted radiator. CARB-certified engine features 55 A alternator, self-bleeding fuel system, and 14.5 gal fuel tank. Mower has Kanzaki hydrostatic transmission and transaxle with transport speed of 15.5 mph. Mower accommodates 72 in., side-discharge 7-IRON mower deck and 72 in., rear-discharge FASTBACK(TM) mower deck. Height of cut is adjustable from 1-6 in.
---
Original Press Release:
John Deere 1545 Front Mower Maximizes Power and Productivity for Commercial Landscapers
John Deere brings commercial landscapers increased levels of power, traction, maneuverability and productivity with the addition of the John Deere 1545 Front Mower to its line of front mowers. Delivering more durability, versatility and performance, the 1545 is ideal for mowing applications, such as city parks, golf courses, schools and universities, cemeteries, airports, and apartment and industrial complexes. The John Deere 1545 is equipped with a 31-hp Yanmar diesel engine with plenty of torque for tough mowing conditions. In addition, the engine's rear-mounted radiator helps lower sound levels and is easy to service. A dual-element air filter includes an air restriction indicator that lets the operator know when servicing is required. Full-pressure lubrication protects the engine even with continuous operation on slopes and hillsides. The CARB-certified engine also features a 55-amp alternator for easy starting; a self-bleeding fuel system for restarting the engine even when it runs out of fuel; and a 14.5-gallon fuel tank efficient for all-day mowing. For added productivity, the John Deere 1545 Front Mower is equipped with a durable Kanzaki hydrostatic transmission and transaxle with a transport speed of up to 15.5 miles per hour. The 1545 Front Mower's drive system also includes a foot-activated differential lock that allows the operator to lock both drive wheels together for extra traction on hillsides and in slippery conditions. Mechanical four-wheel drive is standard on the 1545. Operators can select from on-demand four-wheel drive, full-time four-wheel drive or full-time two-wheel drive. In the on-demand position, four-wheel drive automatically engages when needed, increasing traction. It disengages when not needed, maximizing the ability for sharper turning, maneuverability and trimming. The 1545 is built with a front-mounted offset mower deck. The deck features an industry exclusive design - "Tail-Follows-The-Trail" - that allows for excellent maneuverability without the rear of the machine encountering obstacles and that increases trimming capability and productivity. Standard turn brakes aid the operator in achieving tight turns. In addition to high performance, the 1545 is engineered to offer customers a reliable and durable machine. Its high-strength steel frame provides maximum durability and allows crucial components to be located lower in the machine, resulting in a low center of gravity that increases stability on hillsides and slopes. A modulated hydraulic clutch with brake provides for smooth PTO engagement, while internal wet disk brakes ensure steady stops and long life. In addition, heavy-duty, dual hydraulic cylinders lift the deck high to clear 8-inch curbs. And a cast-iron rear bumper defend the mower from obstacles that might get in the operator's path. The mower is also equipped with a composite hood that protects the unit from dents, rusting and fading. Designed with operator comfort and safety top of mind, the 1545 is outfitted with a deluxe Grammer seat that adjusts to accommodate operators of different heights and weights. Armrests are standard. The mower features power steering (two turns lock-to-lock), reducing operator fatigue and increasing machine response and maneuverability. In addition, tilt steering allows the operator to adjust the steering wheel to a desired position and provides additional clearance for entering and exiting the operator stand. The mower's patented two-pedal foot- control system eases speed and direction control for the operator. And the park brake is conveniently located above the forward and reverse pedals. Other features include a standard cup holder and storage compartment as well as a 12-volt outlet for cell phones and radios. Providing added safety, the 1545 features heads-up indicator lights that are located on the steering column. And the machine's two-post ROPs can be folded down when mowing under trees. The John Deere 1545 Front Mower also offers operators high-quality cutting performance. The 1545 will accommodate a 72-inch, side-discharge 7-IRON mower deck as well as the new 72-inch, rear-discharge FASTBACK(TM) mower deck. The decks have a unique baffling system that reduces clumping and provides uniform clipping dispersal. Height of cut can be easily adjusted from 1 to 6 inches in ½-inch increments. The 1545's ease of service helps operators to keep their machine running at peak performance. The mower's hood slides rearward, allowing the operator easy access to the engine, oil filter, flip-out hydraulic oil cooler, radiator, air restriction indicator and air filter. In addition, the seat flips forward for access to the battery, fuse, bank and the front of the engine. A hinged panel on the foot platform flips forward for accessing the transmission, transaxle and most linkages. And top spindles are easily accessible for greasing from the top of the deck without removing belt covers. Other service features include Rotate for Service(TM) (RFS) decks and no-tool mower deck access. All John Deere commercial mowing equipment includes an exclusive, two-year bumper-to-bumper, single source warranty. Please forward sales inquiries to John Deere Inquiry Department, PO Box 13603, Research Triangle Park, NC 27709. Readers can also call 1-800-537-8233 or visit www.johndeere.com.
More from Architectural & Civil Engineering Products