DC to DC Power Supplies (Converters)
Front-End Power Supply comes in DC input versions.
Press Release Summary: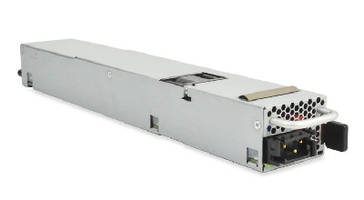 Housed in 1U package measuring 1.575 x 2.145 x 12.65 in., PSD-1100-12 Series outputs 12 Vdc with 5 Vdc or 3.3 Vdc pin-selectable standby. Unit is hot pluggable with DC input connector at front and output connector that integrates DC power and signal pins at back. With 40~72 Vdc input range, 1,100 W product is compatible with existing AC input PSA-1100-12, allowing plug and play operation between them. PSD-1100-12 features system communications via I2C/PMBus™ protocol for control and monitoring.
---
Original Press Release:

1100 W Front-End Power Supply Series Expanded to Include Dc Input Versions



TUALATIN, Ore. – CUI Inc today announced an addition to its line of 1100 W front-end power supplies to include dc input versions.  The PSD-1100-12 series delivers high power density and achieves Platinum efficiency in a compact slim line 1U package measuring just 1.575 x 2.145 x 12.65 inches (40 x 54.5 x 321.3 mm). The narrow 54 mm profile allows designers to minimize application space compared to larger solutions on the market.  The power supply outputs 12 Vdc with 5 Vdc or 3.3 Vdc pin-selectable standby. The PSD-1100-12 is hot pluggable with a dc input connector at the front and an industry standard output connector that integrates dc power and signal pins at the back. With an input range of 40~72 Vdc, the unit is designed to be compatible with CUI's existing ac input PSA-1100-12, allowing plug and play operation between the two versions.  The series is ideally suited for telecom, server and networking rack mount applications where a mix of ac input and dc input versions are required.



The PSD-1100-12 features system communications via I2C/PMBus™ protocol for control and monitoring of the unit. The main 12 Vdc output delivers up to 92 A with droop current sharing for paralleling multiple units; forced current sharing is optional. For maximum flexibility, the series is available in front-to-back or back-to-front airflow configurations depending on the application's cooling requirements. The PSD-1100-12 also offers 60950-1 safety approvals, bears the CE Mark, and complies with all applicable EMC requirements to accommodate world wide applications. Protections for over-voltage, over-current, over-temperature, and input under-voltage are standard.



Samples are available immediately; please contact CUI for more information.



Summary

Product name: PSD-1100-12 Series

Availability: Stock to 16 weeks

Possible users: Broadcast, wireless, telecom, server and networking applications

Primary features: Dc input, Platinum efficiency, N+1 redundancy, PMBus communication



View details for the PSD-1100-12 series



About CUI Inc

CUI Inc is a technology company focused on the development and distribution of electronic components. At the leading edge of power supply design, the organization supports customers as they strive to improve the energy efficiency and environmental credentials of their application. The company's power group is complemented by a portfolio of world-class board level components, consisting of interconnect, sound, motion control and thermal products.  An unwavering commitment to create collaborative partnerships with customers and a drive to see that their design project is a success has been a hallmark of CUI's sustained growth since its founding in 1989. As a leader in the industry, CUI will continue to invest in the future through new technologies, talented employees, expanded manufacturing capabilities, and a growing global reach.



CUI Inc is a subsidiary of CUI Global, Inc., a publicly traded company whose common stock trades on the NASDAQ Exchange under the symbol CUI.



Media contacts

CUI Inc

Jeff Schnabel

+1 503 612 2300

jschnabel@cui.com

twitter.com/cuiinc

More from Fasteners & Hardware