Frictionless Centrifugal Chiller uses magnetic bearings.
Press Release Summary: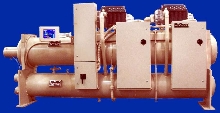 McQuay® frictionless centrifugal chiller utilizes oil-free, magnetic bearings in order to attain sound levels as low as 77 dBA. It operates from as low as 0.375 kW/ton IPLV and features full load performance as low as 0.62 kW/ton. Requiring less than 5 A to start, unit uses HFC-134a refrigerant and incorporates MicroTech II(TM) controls with Protocol Selectability(TM) feature. Variable frequency drives unload chiller to 10% of full load.
---
Original Press Release:

McQuay® Frictionless Centrifugal Chiller with Magnetic Bearings Delivers Superior Efficiency, Quiet Operation


Minneapolis, MN-Designed with innovative magnetic bearing technology that is oil-free, the McQuay® frictionless centrifugal chiller operates as low as 0.375 kW/ton IPLV, the most efficient performance in its tonnage range in the industry. Full load performance is as low as 0.62 kW/ton-about 32 percent more efficient than screw compressor chillers. The frictionless, magnetic bearing compressor design also significantly reduces sound levels, because the magnetic bearings eliminate the metal-to-metal contact noise of conventional bearings. Sound pressure ratings are as low as 77 dBA per ASHRAE Standard 575.

"The magnetic bearing technology of the McQuay frictionless centrifugal chiller provides superior energy efficiency by eliminating the high friction losses of conventional centrifugal compressors," said Daryl Showalter, director of marketing, McQuay chiller products. "Variable frequency drives unload the chiller to 10 percent of full load. The chiller requires less than five amps to start, compared to 500 to 600 amps for a traditional screw compressor chiller. And, because magnetic bearings require no lubrication, there is no need for oil heaters, oil coolers, oil pumps or oil piping."

Environmentally-friendly HFC-134a refrigerant has no ozone depletion potential and is rated A1 (best) under ASHRAE Standard 34 (lower toxicity, no flame propagation). McQuay MicroTech II(TM) controls with the Protocol Selectability(TM) feature allow easy integration with the building automation system of choice using BACnet®, LONWORKS® or Modbus® communications.

McQuay International delivers engineered, flexible solutions for commercial, industrial and institutional HVAC requirements with reliable products, knowledgeable applications expertise and responsive support. McQuay products and services are provided through a worldwide network of dedicated sales and service offices. For more information or the name of your local McQuay representative, call 1-800-432-1342 or visit www.mcquay.com.

The McQuay® frictionless centrifugal compressor chiller with oil-free magnetic bearings delivers superior efficiency and quiet operation.

More from Fluid & Gas Flow Equipment