Freudenberg-NOK Sealing Technologies Brings Solenoid Plunger Products to North American Automotive Market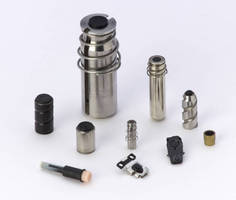 Product offering helps to improve engine and fuel management performance



PLYMOUTH, Mich. – Freudenberg-NOK Sealing Technologies today announced that its Integrated Molded Components (IMC) product portfolio of bonded solenoid plungers is now available to automotive industry customers in North America.



The products have proven highly successful in Europe and the company now has dedicated local and technical support to produce the products and assist customers in North America.



The product offering includes numerous plunger designs that meet stringent requirements and can be utilized in various automotive applications, such as engine air management systems, fuel injection systems, exhaust systems and fuel vapor management systems, as well as solenoid valves for air suspension systems.



"There are various advantages of a bonded plunger solution versus an assembled metal plunger, including improved tolerances that enable optimum switching precision, the possibility of miniaturization, as well as reduced assembly and logistic costs," said Juergen Mall, Market Segment Manager, Freudenberg-NOK Sealing Technologies. "To design a bonded plunger solution, we can provide engineering support to our customers that includes finite element analysis to simulate load behavior, bouncing and critical forces that can streamline the testing and release process."



Solenoid plungers are normally a combination of a carrier part made of stainless or standard steel and an elastomer material bonded to it, with the grade of elastomer depending on the application. IMC offers a wide range of elastomer materials for all applications – including a magnetic switchable elastomer that allows for new design solutions – and can also work with customers to create new elastomer compounds to fit unique applications, such as very low temperature conditions, high media resistance, low noise generation and more.



Typical automotive material requirements include resistance against blow-by gases, biofuels, compressed natural gas, liquefied petroleum gas, diesel exhaust fluid (AdBlue®) and more, all of which can be met by IMC's range of materials.



Media Contacts:

Cheryl Eberwein

Director, Media Relations

Office: +1 734 354 7373

E-Mail: cheryl.eberwein@fnst.com



About Freudenberg-NOK Sealing Technologies



Freudenberg-NOK Sealing Technologies is the Americas joint venture between Freudenberg and Co. in Germany and NOK Corp. in Japan. Freudenberg-NOK is a leading producer – through its Automotive, Merkel, Process Seals and Simrit sales channels – of advanced sealing technologies for a variety of markets including: aerospace;  agriculture;  appliance; automotive; construction; diesel engine; energy; food and beverage; heavy industry; and pharmaceutical.



Founded in 1989 under the legal name Freudenberg-NOK General Partnership, Freudenberg-NOK is headquartered in Plymouth, Mich. and operates more than 20 facilities across the Americas. For additional information, please visit www.fnst.com.



More from Safety & Security Equipment