Hydraulic / Pneumatic / Radial Shaft Seals
Freudenberg-NOK's MileMaker(TM) Seals Help Commercial Trucks and Trailers Log Better Fuel Economy and Longer Wheel Life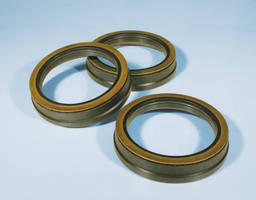 PLYMOUTH, Mich. – A portfolio of sophisticated wheel seals from Freudenberg-NOK Sealing Technologies (Freudenberg-NOK) will help heavy duty vehicle manufacturers meet renewed demands for better fuel economy, longer service life and increased wheel durability as their trucks and trailers roll along American highways.



Freudenberg-NOK's MileMaker™ wheel seals are made of an advanced, proprietary material that reduces friction and lowers torque 50 percent more than competitors' seals, resulting in an average fuel savings of $1,000 per commercial truck and trailer combination over the life of the seals. The calculation was based on a typical commercial configuration of 10 seals – six on a truck and four on a trailer – each generating $100 in savings on $4 per gallon diesel fuel over 500,000 miles.



"Our MileMaker seals offer enormous potential in helping our commercial truck and trailer customers meet escalating demands for better fuel economy, lower emissions, reduced maintenance costs and longer operating life in harsh, unpredictable environments," said Torsten Maschke, president, Automotive Sales and Marketing, Freudenberg Sealing Technologies. "MileMaker seals are part of our comprehensive Low Emission Sealing Solutions (LESS) portfolio of products that address overall fuel economy and emissions challenges in all vehicles.



"In the case of the MileMaker program, our material and engineering expertise drove development of a proprietary design that outperformed our competitors ' seals by thousands of hours in hot durability, hot temperature and contaminant exclusion testing. These seals are on the road and are setting new industry performance standards in the commercial vehicle segment."



Freudenberg-NOK is using an advanced elastomer to produce the MileMaker seals. The material withstands higher operating temperatures of up to 350° F and is compatible with mineral and synthetic oils, and grease lubricants. In addition, the seals have an integrated lathed, ground and polished wear sleeve running surface that reduces friction, lowers torque and promotes a cooler running surface for the main lip seal. The MileMaker seal also incorporates patented dirt exclusion fins that assist with keeping contamination away from the seal. The lubed rubber OD (outer diameter) and ID (inner diameter) design eases installation force, which results in less heat generation and increased seal life, and seals any minor hubs or spindle imperfections. The seal design has low internal torque aided by an internal lubricant, which translates to lower internal heat generation, excellent wear resistance and improved fuel economy.



"We have been able to build upon many years of proven seal performance in the heavy duty industry with the MileMaker product," said Tim Guzman, senior sales director for Freudenberg-NOK's Power Sector.  "Industry demands for lighter, smaller, more efficient drivetrains and powertrains in commercial vehicles will continue to drive our research and development efforts going forward. We want to help our customers meet the evolving performance standards that will impact their profitability and growth."



Media Contacts:

Cheryl Eberwein

Director, Media Relations

Office: +1-734-354-7373

Cell: +1-248-767-1068

E-Mail: cheryl.eberwein@fnst.com



About Freudenberg-NOK Sealing Technologies



Freudenberg-NOK Sealing Technologies is the Americas joint venture between Freudenberg and Co. in Germany and NOK Corp. in Japan. Freudenberg-NOK is a leading producer – through its Automotive, Merkel, Process Seals and Simrit sales channels – of advanced sealing technologies for a variety of markets including: aerospace;  agriculture;  appliance; automotive; construction; diesel engine; energy; food and beverage; heavy industry; and pharmaceutical. Founded in 1989 under the legal name Freudenberg-NOK General Partnership, Freudenberg-NOK is headquartered in Plymouth, Mich. and operates more than 20 facilities across the Americas. For additional information, please visit www.fnst.com.

More from Material Handling & Storage