Freshline IQ Freezer enhances high throughput for food processors.
Press Release Summary: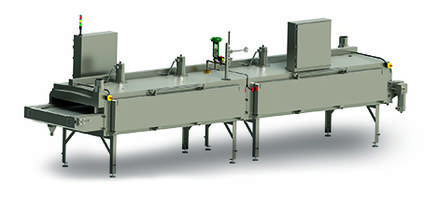 Providing easy access aiding for simpler cleaning, Freshline IQ Freezer have sloped surfaces for eliminating standing water. Dispersing vaporized liquid nitrogen throughout tunnel for fast cooling, unit comes in ten-foot modular size with optional remote monitoring system for tracking real time variables and remotely troubleshoot issues.
---
Original Press Release:
Air Products Introduces New Freshline® IQ Freezer at Seafood Expo
New Cryogenic Tunnel Freezer Designed for Increased Efficiency, Economy and Hygiene
Air Products (NYSE: APD) will introduce its new Freshline® IQ cryogenic tunnel freezer at Seafood Expo North America in Boston from March 19-21. The Freshline IQ freezer offers food processors continuous high throughput for a broad range of products with easy clean-up and minimal up-front capital investment.
The Freshline IQ freezer's heat transfer capability enables vaporized liquid nitrogen to be dispersed optimally throughout the tunnel, which translates to the shortest freezer required to cool or freeze product, as well as minimized running costs. Based on ten-foot modular units that can be quickly and easily integrated into a customer's existing production line, the Freshline IQ freezer can be expanded on-site to grow with increasing production needs. The new freezer has large openings to provide easy access for simpler cleaning and sloped surfaces to eliminate standing water. An optional remote monitoring system, enabled by the Industrial Internet of Things, allows food processors or Air Products to track real time variables or remotely troubleshoot issues to ensure optimization of the system.
Seafood processors are invited to stop by Air Products' booth 1074 to speak with one of the company's food specialists about the best Freshline solution to help optimize their operation using either nitrogen or carbon dioxide to freeze or chill their products. As a leader in cryogenic technology applications, Air Products has the experience and technical know-how to help seafood processors address some of their toughest challenges. With food laboratories located in the U.S., Europe, and Asia, Air Products can test a customer's product on commercial-scale equipment to determine the feasibility of using cryogenic freezing or chilling for their specific process.
In addition to freezing and chilling solutions, Air Products also offers a broad range of solutions to meet a seafood processor's water treatment needs, including oxygen systems to improve dissolved oxygen levels in their wastewater treatment system or aquaculture tanks/ponds, and carbon dioxide for pH control of their wastewater discharge.
Air Products has Freshline solutions for every type of customer, from large manufacturers with multiple product lines to small food processors with a niche product and every operation in between. The company provides its industrial gases in a variety of delivery options to match each customer's requirements, from small- to large-volume users.
For more information about Air Products' complete portfolio of offerings for the seafood industry, call 800-654-4567 (outside of the U.S. 610-706-4730) or visit www.airproducts.com/food.
About Air Products 
Air Products (NYSE:APD) is a world-leading Industrial Gases company in operation for over 75 years. The Company's core industrial gases business provides atmospheric and process gases and related equipment to manufacturing markets, including refining and petrochemical, metals, electronics, and food and beverage. Air Products is also the world's leading supplier of liquefied natural gas process technology and equipment.
The Company had fiscal 2016 sales of $7.5 billion from continuing operations in 50 countries and has a current market capitalization of approximately $30 billion. Approximately 16,000 employees are making Air Products the world's safest and best performing industrial gases company, providing sustainable offerings and excellent service to all customers. For more information, visit www.airproducts.com.
CONTACT:
Media Inquiries
Debbie Bauer,
Tel: (610) 481-8061,
Email: bauerda@airproducts.com;
Investor Inquiries
Simon Moore,
Tel: (610) 481-7461,
Email: mooresr@airproducts.com 
Web Site: http://www.airproducts.com
Related