AC Motor Controllers and Drives
Frequency Inverters offer regenerative power modules.
Press Release Summary: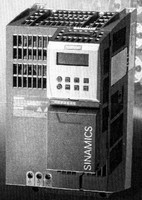 Sinamics G120 frequency inverters are available with PM250 and PM260 regenerative power modules. With nominal voltage of 400 V, PM250 comes in frame sizes C-F and handles power outputs from 5.5-75 kW. Model PM260 offer nominal voltage of 690 V and is available in frame size D for 15 kW with or without optional Class A input filter. In addition to RS232 and RS485 serial interfaces, communication is possible via Profibus with Profidrive v4.0.
---
Original Press Release:

Regenerative Power Modules Added to the Sinamics G120 Range of Frequency Inverters



Siemens Automation and Drives (A&D) has now added the PM250 and PM260 regenerative Power Modules to its Sinamics G120 range of frequency inverters. The current obtained from the regenerative operation of drives is returned to the power network. With a nominal voltage of 400 V, the PM250 in frame sizes C to F handles power outputs from 5.5 kW to 75 kW. The PM260 for 690 V is available in frame size D for 15 kW with a Class A input filter as an option.

Machines place specific demands regarding motors and generators on the drives used with them. The braking energy can either be thermally converted by means of resistors or returned to the power supply network via regenerative units. Regeneration of energy saves costs normally incurred for additional cooling, heat removal and braking choppers. It also means that less installation space is needed. Savings in the planning of braking resistors and commutating reactors and in the area of energy consumption are made as well. The Sinamics G120 inverter series now has regenerative Power Modules in the form of the PM250 and the PM260.

With a nominal voltage of 400 V, the PM250 in frame sizes C to F handles outputs from 5.5 to 75 kW. The Power Module can also be used for STO, SS1, SLS and SBC safety applications. The PM260 for supply voltages of 690 V is available in frame size D for 15 kW with or without a Class A input filter. The integrated LC output filter ensures a clean sinusoidal current at the inverter output and enables cable lengths of up to 300 m. Thanks to the output filter, the bearing currents are lower. This reduces wear on the motor and allows the use of motors with less winding insulation. The standard switch frequency of 16 kHz ensures low-noise operation with a high level of efficiency and low heat generation. Another characteristic of the PM260 is its innovative SiC semiconductor technology. It ensures that, although having the same power output, the inverter is more compact than comparable standard converters with an optional LC filter. Moreover, the PM260 Power Module can be used for STO, SS1, SLS and SBC safety applications.

Its innovative method of power regeneration is characterized by low harmonics, input currents and wiring cross-sections. As regenerative Power Modules, the PM250 and the PM260 can be combined with the Control Units within the Sinamics G120 inverter series and feature all the usual methods of open-loop and closed-loop control as well as vector control, voltage-frequency control and FCC (Flux Current Control). In addition to the RS232 and RS485 serial interfaces, communication is possible via Profibus with Profidrive 4.0. Parameterization is carried out using the Basic Operator Panel (BOP) or the "Starter" parameterizing software. The required parameters can be loaded quickly and easily via a Micro Memory Card (MMC) or the BOP (cloning).

Further information at: http://www.siemens.de/sinamics-g120

This press released is supplemented by a photo which you can view in the Internet at: http://www.siemens.com/ad-picture/1407

You can also find the text in the Internet at: http://www.siemens.de/automation/presse

More from Fluid & Gas Flow Equipment