Freezer manages inventory with rotating carriers.
Press Release Summary: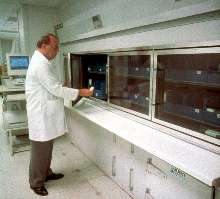 Automated Freezer Vertical Carousel provides high-density storage with access to items via vertically arranged carriers. Access area presents stored items at ergonomic height for picking, while carousel maintains temperature at consistent levels down to -20°C. Controller links operating system and cooling system, allowing carousel to rotate periodically to keep temperature of stored items uniform throughout unit. System also controls defrost and thaw cycles.
---
Original Press Release:

Remstar Freezer Vertical Carousels Improve Productivity, Inventory Control in Industrial Operations


The freezer vertical carousel from Remstar International Inc. offers improved inventory management, reduces errors and significantly increases employee productivity in industrial automated storage and retrieval applications.

Freezer vertical carousels provide high-density storage with quick access to items via a system of vertically arranged rotating carriers that bring the exact store position to the operator. Because operators don't have to spend time searching for items in frigid storage conditions inside freezer units, productivity can often increase by more than 2.5 times when compared with traditional walk-in freezers. Storage and retrieval costs can also be reduced since operators do not need costly insulated clothing or other special equipment.

The access area of freezer vertical carousels is ergonomically designed to present stored items at an ideal height for picking. This location of the access area contributes to employee safety and improved productivity when compared with bending and climbing associated with conventional shelving.

The Remstar freezer vertical carousel is designed to maintain temperature at a consistent level, as low as -20° C, to protect industrial equipment items. Since only the vertical carousel is cooled rather than the surrounding space, system efficiency is improved. A Remstar designed controller links the freezer vertical carousel operating system and the cooling system allowing the carousel to rotate periodically to keep the temperature of stored items uniform throughout the unit. The system controls defrost and thaw cycles, allowing warning alarms to be easily set.

The unit exterior is constructed of five-inch-thick wood framed panels and poured urethane foam enclosed in a metal skin. Fully automated sliding glass doors allow operators to view shelf contents without letting cold air escape. Automated doors that run the width of the unit provide unobstructed picking from the carrier. A pressure-sensitive mat timer, or task complete buttons can activate the doors. A door heating system keeps doors clear of frost. Traditional hinged doors are also available.

The vertical design of the freezer carousel takes advantage of unused overhead space to recover up to 75 percent of a conventional storage system's occupied floor space. Improved space utilization can extend the useful life of existing facilities and consolidate multiple facilities, while eliminating the need for expensive brick and mortar expansion to meet growth requirements.

The freezer vertical carousel meets all international regulations and agreements regarding the use and phase out of chlorofluorocarbons. Its compressor and condenser units can be installed on the outside or top of the vertical carousel or outside of a building rather than taking up valuable floor space in the work area. The evaporator is mounted inside of the ceiling of the enclosure system to provide efficient, direct cooling to stored items. Carrier shelves can be configured to hold a variety of container sizes, allowing the efficient storage of small and large items.

Remstar International Inc., a company of the Kardex AG Remstar International (KRI) Group of Zurich, Switzerland, is a leading provider of automated storage and retrieval systems for manufacturing, distribution and warehousing applications. For more information on Remstar freezer vertical carousel systems call 800-639-5805 or visit the Remstar web site at www.Remstar.com


More from Laboratory and Research Supplies and Equipment