Frame Grabber has integrated display.
Press Release Summary: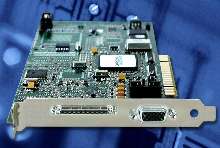 Bandit-II Digital monochrome frame grabber supports both single and dual tap digital cameras configured in 8, 10, or 12-bit pixel/tap input formats, and digitization rates up to 60 MHz. With interrupt-driven, dedicated I/Os, unit provides real-time control. Images acquired are transferred to system memory with no CPU usage. Onboard VGA can display high-resolution VGA and TV formats simultaneously. Live images can be flipped vertically or horizontally.
---
Original Press Release:

New Digital Frame Grabber Optimized for Vision Applications Requiring Powerful Acquisition and Display from LVDS Area-Scan Cameras


Montreal, Quebec (October 16, 2002) - Coreco Imaging, a leading developer of high-performance machine vision products, today introduced the Bandit-II Digital, a monochrome frame grabber with integrated display that lets OEMs take advantage of the improved image quality resulting from using digital LVDS cameras. The new frame grabber builds on the success of the Bandit-II series, a new line of VGA frame grabbers integrating flexible acquisition and high-resolution true color display controllers into a single slot PCI or AGP board.

"Digital cameras offer several advantages over analog; for example, the signal-to-noise ratio is typically higher, resulting in better accuracy," said Philip Colet, Vice-President of Sales and Marketing at Coreco Imaging. "In addition, digital cameras support larger image sizes, faster frame rates and higher pixel resolutions. The Bandit-II board provides all the flexibility and advanced image acquisition capabilities of an advanced frame grabber, including video capture, image scaling and rotation and input LUTs - now with a digital interface."

The Bandit-II Digital supports both single and dual tap digital cameras configured in 8, 10 or 12-bit pixel/tap input formats, and high-speed digitization rates of up to 60MHz. The 8-bit/pixel format supports input resolution of 2048 bytes x 2048 lines while the 10 and 12-bit/pixel formats support input resolution of 1024 bytes x 2048 lines YUV. With interrupt-driven, dedicated I/Os, the Bandit-II Digital provides real-time control and ensures reliability in high-speed applications, such as semiconductor, pharmaceutical and general-purpose machine vision. An external clock enables highly accurate image acquisition, while flexible external trigger modes allow external process synchronization.

Images acquired by the Bandit-II Digital are transferred in real time to system memory with no CPU usage, freeing the CPU to perform other critical tasks. The frame grabber's onboard VGA can display high-resolution VGA and TV formats simultaneously for increased application flexibility.

Targeted at cost-sensitive machine vision applications requiring display, the Bandit-II product line is comprised of: the Bandit-II RGB (for color applications), the Bandit-II CV (general-purpose VGA frame grabber) and the Bandit-II MV (monochrome frame grabber for machine vision). The Bandit Series product line provides numerous advanced image acquisition and display features that make these frame grabbers incomparable to others in their class, including:

o A flexible, state-of-the-art acquisition control unit (ACU) that can acquire images from a mix of RGB, video, s-video and monochrome multiplexed cameras;
o A low-pass filter, as well as brightness, contrast, hue, saturation and sharpness controls for superior image acquisition;
o Two sets of user-programmable, 8-bit input lookup-tables (iLUTs) for RGB or monochrome input signals that allow on-the-fly switching, speeding image acquisition;
o The ability to operate as a frame grabber with system VGA or as a frame grabber with a non-system display card, and to support the multiple VGA adapter feature of Windows NT, 2000 and XP;
o Highly optimized 2D and 3D display rendering with up to 16MB of shared display memory;
o Dual-head display capability, enabling live images to be displayed on the primary or secondary display output, in a window or in full screen mode;
o Interpolated zoom and scaling by an arbitrary factor allows zooming and scaling the entire image or a particular region of interest;
o Live images can be flipped vertically or horizontally (image mirroring), an indispensable feature for teleconferencing, endoscopy, ophthalmology and a variety of other medical applications.

All Bandit-II frame grabber applications are developed under Windows NT,® Windows 2000® and Windows XP® using Coreco Imaging's Sapera, WiT® or IFC software development libraries. Coreco Imaging's software development tools allow users to develop applications with C DLLs, C++ classes or ActiveX controls on Microsoft Visual C/C++ 6.0 (or higher) or Visual Basic 6.0 (or higher) development platforms.

Contact Coreco Imaging for pricing and availability.

About Coreco Imaging
Coreco Imaging is a leader in the design, development, manufacturing and marketing of hardware and software for high-performance computer vision applications, primarily in the medical imaging, machine vision and industrial inspection markets. The company employs approximately 135 people and has operations in Montreal (QC), Vancouver (BC) and Billerica (MA), with additional sales offices in Cleveland (OH) and San Juan Capistrano (CA). Founded in 1979, Coreco Imaging's success is driven by sound financial management combined with its commitment to the research and development of value-added products to serve the evolving needs of the computer vision market.

Address:
6969 Trans Canada Highway, Suite 142
St. Laurent, Quebec H4T 1V8
Canada
Tel +1 514-333-1301
Fax +1 514-333-1388
info@corecoimaging.com
http://www.imaging.com

Media Contacts:
Kumi Verma
Marketing Communications Mgr., Intl.
Tel: +1-514-333-1301
e-mail: kverma@corecoimaging.com

Christina Lewis
Media Relations Specialist
Tel: +1-617-227-8090
e-mail: christinalewis12@attbi.com


More from Software